High Rent Pushing More Millennials to Consider Buying
Millennials. Many were raised during the housing crisis and the recession. Their childhood experiences in a down market has shaped their outlook on home ownership. At least, that was the prevailing belief.
A few years ago, it looked as though the millennial generation was rather uninterested in buying a home. In 2013, NAR was releasing reports showing a gradual, year-to-year, conspicuous decline of the percent-age of first-time homebuyers. And millennials weren't buying at the same rate previous generations had at the same age.  They were taking longer to get married, have families, and settle down.
Forward to 2015. At Coldwell Banker's Colorado Real Estate and Economic Summit in March, Mark Samuelson, writer for the Denver Post, told REALTORS® in attendance that one of the biggest myths in the Denver housing market is that Millennials aren't interested in buying a home. 3
In the 2015 front-range market, nothing could be further from the truth. Expect open-house crowds to look just a bit younger this year.
National studies show that 65 per-cent of Millennials still believe buying a home is the American Dream.3 A Fannie Mae Survey reported that 90% of millennial buyers prefer owning over renting.8 And according to the 2015 NAR Home Buyer and Seller Generational Trends Study, the largest group of recent home buyers are those who are 34 and younger. This is notable considering that relatively recently, the number of first-time buyers sank to its lowest level in nearly 30 years.This year, Millennial buyers represent more than twice the amount of Baby Boomer buyers. Twice. And as of 2014, millennials have pulled ahead of Generation X as the largest segment of buyers at 32 per-cent of the U.S. Housing market, and growing, according to NAR. 2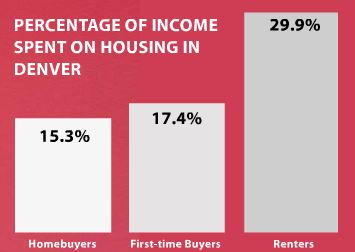 The Nudge
Rent. It's risen so much that buying is making more sense. Especially in the Denver area. 2 Denver metro rent is rocketing three times faster than the U.S. average, an economic catalyst that is making Denver millennials more likely than their national peers to give up rent in favor of a mortgage.4 While not as steep, front-range renters from Fort Collins to Colorado Springs are feeling the same pinch as rent continues to rise.
"I pay $1,410 in rent for my one-bedroom apartment in downtown Denver," said Eric Arther, 28, who has saved about $30,000 for a down payment. "If I pay that much, I'd like to build some equity."2
Average rent has increased approximately 11 percent in just the past year and will continue to rise. 6 Denver is among the top four markets in the country where renters have seen the highest increase in rents since 2009. Metro's 24.1% increase in rent in the last six years follows only that of New York (50.7%), Seattle (32.38%) and San Jose, CA (25.6%). 7 And in-come rates have not kept pace with rising rental prices.
The Hurdles
It's getting more expensive to buy a home in Denver.   Home values in-creased 14.7 percent in January from a year earlier. 2
The median sale price in Denver jumped 17 percent in the last year, from 280k to 329k. 4   It's no secret to REALTORS® working in the Metro area that Denver is one of the 15 least affordable areas in the country for Millennials to buy homes. 1
Home purchases by younger buyers are likely to grow gradually despite working through hurdles such as high student debt, tight lending standards, the inability to save for a 20% down payment, and later family formation than earlier generations. 81
"Many Millennials have endured underemployment and sub-par wage growth, and rising rents, and repaying student debt have made it very difficult to save for a down payment," said Lawrence Yun, NAR's chief economist.
Helping the Next Generation of Homeowners
Low mortgage interest rates and rising household incomes are helping soften the sticker shock that first-time buyers experience when they first dip their toes in the housing market. 4
There are many first-time homebuyer down payment programs available, designed to help the next generation of buyers realize the dream of home-ownership. CHFA offers programs that can help qualified first-time home buyers with down payment costs. CAR has recently unveiled the Down Payment Resource Program, designed to help potential homeowners discover down payment program that fit their personal situation.
"We as an industry should be step-ping up our proactive education efforts to ensure home buyers are fully prepared to make the most significant financial transaction of their lives," said Brian Benson, CEO of Closing Corp. 9
Millennials have good jobs. Rents are rising rapidly. They want to buy homes.
Sources:
1. Pankratz, Howard. The Denver Post. Denver is among least-affordable home markets for Millennial buyers. August 1, 2014
2. Gopal, Prashant and Gittelsohn, John. Bloomberg Business. Denver is among least-affordable home markets for Millennial buyers. March 25, 2015.
3. Rebchook, John. Inside Real Estate News. Mygatt: Don't wait to buy a Denver home.March 3, 2015.
4. Raabe, Steve. The Denver Post. Soaring rents in Denver have tenants thinking more about buying. March 13, 2015.
5. REALTORMag. Tipping Point for Millennial Home Buyers? March 26, 2015.
6. Perry, Wade. 9News. Why it's better to own rather than rent in Denver. January 30, 2015.
7. MFE. (multifamilyexecutive.com). Study: Rents Rising Faster Than Incomes. March 19, 2015.
8. CNN Wire. Millennials squeezed out of buying their fi rst home. June 1, 2014.
9. REALTORMag. Most Millennials Unaware of Closing Costs. March 25, 2015.
10. REALTORMag. 30% of Millennials Plan toBuy in 5 years. March 31, 2014