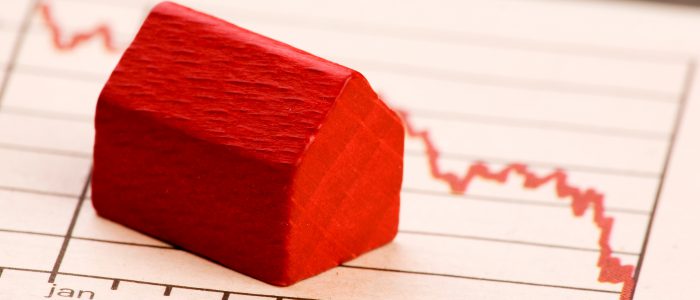 Evidence of Denver housing market slowdown; changes happening in Denver metro and statewide
https://coloradorealtors.com/market-trends/regional-and-statewide-statistics/
ENGLEWOOD, Colo. – Aug. 10, 2018 – An early peak housing season – April/May – has been met with an earlier than normal seasonal slowdown as buyer and seller behavior is changing amid the latest market conditions, according to the July 2018 statewide housing data from the Colorado Association of REALTORS® (CAR).
With enough evidence building to demonstrate a change is coming, Denver metro and statewide sold listings suffered double-digit declines from June to July for single-family properties. Condo/townhome sales were down 8.5 percent in the seven-county metro area and more than 7 percent statewide.
In addition, new listings for single-family residence in the Denver metro area were down more than 13 percent (condo/townhomes -9.5 percent) from June to July while statewide, single-family homes dipped 12.5 percent month-over-month and were down 11 percent for condo/townhomes new listing across Colorado.
While median sales prices remained somewhat flat in both the Denver-metro region and across the state, prices remain strong when compared to where the market stood one year ago. The median price of a single-family home in the Denver metro region was just over $436,000 in July, a less than one percent slide from June, but remains up 7 percent from July 2017. Condo/townhome median pricing in the Denver-metro area dipped 2 percent and is back under the $300,000 mark at $298,900.
Statewide, the median sales price for a single-family home fell 2.3 percent to $390,000, still up nearly 8 percent from a year prior, while the statewide condo/townhomes median price also dipped back under $300,000 with a decline of 2.6 percent. They too remain up more than 10 percent from July 2017.
Taking a closer look at some of the metro-area and statewide market conditions, here are some perspectives from several of the Colorado Association of REALTORS® market trends spokespersons:
AURORA
"With a 5.5 percent increase in inventory and sales that have slowed a bit, there are some new opportunities for buyers throughout Aurora. There is still an overall shortage in inventory however, due to the July increase in homes and condos for sale, we're seeing a few more opportunities for buyers. The median sales price is $380,000 for single-family residential and $254,000 for condos, suggesting that Aurora is still an affordable option in the metro area. Is the slowing down a change in the market or just the typical summer slowdown? The next few months will tell us whether we are seeing a new trend in the market," said Aurora-area REALTOR® Sunny Banka.
BOULDER/BROOMFIELD
"While other parts of our state are experiencing a bit of a slowdown, the city of Boulder is still flying high! Inventory is still tight, down 9.5 percent, and prices are up a solid and steady 6.8 percent. The numbers speak of a continued seller's market, but on the ground, the seasonal shift of summer is being felt throughout the market.  August and September numbers may not come in as strong, as we are seeing price reductions and longer days on the market. Every year, we ask ourselves if this is a seasonal shift, which will change again in the fall, and every year for the last 5 years, it has been. With lack of affordability a significant issue in Boulder, we may be seeing more than a seasonal change.
"Broomfield County is also tight on inventory – 18 percent fewer listings than this time last year. With a respectable year-over-year appreciation rate of 5.9 percent, this area is holding strong, too. From a 'boots on the ground' perspective, the homes that are overpriced are sitting on the market longer and price reductions are now common. We are not in a balanced market, but we are in one where buyers may have decided to stop over-paying for properties. Again, the next few months will tell the story," said Boulder-area REALTOR® Kelly Moye.
COLORADO SPRINGS/PIKES PEAK AREA
"Pikes Peak numbers through July show that statistical trends in the Colorado Springs area are as good – or better – this year than they were at this time last year. Prices are up from July 2017 to 2018: the median sales price reached $310,000 in July, up from $285,000 at this time last year. Days on market sit at just 22 days through July, exactly the same as a year ago. New listings stood at 1,696 through July 2018, a slight change from the 1,743 we had in 2017.  Sold listings in July hit 1,514, just a few shy of the 1,556 sold listings last year at this same time. Anyone taking a hard look at area reports would discern that statistically, the Colorado Springs market is experiencing re-run of 2017.
"However, the boots on the ground sentiment from REALTORS® working in the Pikes Peak market indicate the winds of change, an overall feeling that the buying and selling season is slowing prematurely, and a pointing to a potential shift in the overall housing demand that has dominated the Colorado Springs area for years. REALTORS® will be carefully examining the market in the coming months for continued evidence of a changing market," said Colorado Springs-Area REALTOR®  Patrick Muldoon.
"Month-over-month single-family home activity for July 2018 was in a slight decline in almost all areas, although active listings were up more than 10 percent. Year-over-year new listings and sales stats were flat however, the average sales price and sales volume were up 11 percent. Interestingly, sales of homes priced under $300,000 plunged 21 percent, while sales of homes priced between $300,000 and $500,000 increased 21 percent. Sales of homes priced between $500,000 to $800,000 rose 4.5 percent and the sales of homes priced over $800,000 rose 37 percent," said Colorado Springs-Area REALTOR® Jay Gupta.
DENVER
"We are no longer looking at evidence of a market change, we are looking at proof of it in the Denver area. While new listings from July 2018 aren't down, they do remain unchanged from the previous year. The number of sold properties is down a fraction while the median price continues to rise, albeit at a drastically slower rate. The ratio of list to sold price remains unchanged at 100.3 percent, which has stayed consistent over the last three years – indicating that, while we have reached the tip of the summit, demand has not yet diminished.
"As a matter of perspective, nothing appears to have changed with respect to the typical talking points of increased prices and high demand. It isn't until we dig a little deeper to realize that the rate of price increase is nearly half that of July 2016 to July 2017 and the drastic movement of peak season to April/May rather than the typical July/August, a change is 'a brewin' as buyer and seller behavior is certainly changing," said Denver-area REALTOR® Matthew Leprino.
"The metro region statistics were somewhat surprising as the sentiment among REALTORS® was the buying season had stalled in the month of July, much as we have experienced the previous 4 years. However, the data would tell us something different. New listings were up slightly from the previous year by 2.5 percent providing a few more properties for buyers to consider.  Slightly more than 10 percent more homes went under contract this past month than in July 2017. Sales were down slightly (1.2 percent) year-over-year. The surprise was, it felt as if no one was out looking, much less buying, and that wasn't the case, as more homes went under contract this July than last July and the year-to-date data supported that, with homes under contract up 4.5 percent. With the number of homes going under contract, the overall inventory continues to be historically low, with active listings down 14.5 percent," said Denver-area REALTOR® Karen Levine.
FORT COLLINS
"At first blush, the numbers for July seem to indicate that the housing market in the Fort Collins Metro area is chugging along at a good clip.  However, when you compare the year-over-year numbers against the month-to-month trending, July saw a sharp drop across the board.
With Year-over-year median price for July up by 10%, that seems a substantial gain – but when you compare that gain against the most proximal months of this year, it's clear there's slowing – both seasonal and economic.  New listings are off substantially and the number of closed transactions is down.
One number that is interesting to note is the "Days To Offer".  Days To Offer, or DTO is the measure between when a Property hits the MLS and the date a contract is accepted.  In the hot zone price of $300k-$400k we have seen this number increasing both year-over-year and month-over-month.
In a market where just 60 days ago, most homes in this price point were going under contract in less than 8 days.  July shows that Buyers have a few extra days to decide on a property and has crept up to 11 days on average.  While that may not seem like a huge increase, it does corroborate the idea that we've seen an incremental slowing in our market.
August and September will be interesting to watch as consumers return from vacations and head back to school.  We typically look for an uptick in activity in September but only time will tell whether what we see today is seasonal slowing or an actual shift in the market," said Fort Collins area REALTOR® Chris Hardy.
GLENWOOD SPRINGS
"Inventory continues to be down over the same period last year with a decline of 18.3 percent in the single-family market while sold and pending listings were up across the valley. In Glenwood Springs, the median sale price is up 23.5 percent over last year however, the frantic atmosphere of the spring has given way to a calmer more buyer-friendly environment with homes that were overpriced now becoming stagnant and sellers chasing the market down. Inventory in the townhome market is up, sold listings comparable to last year, but prices are down 10 percent.
"Overall, we are seeing a more balanced market than we had this spring with buyers able to take time to investigate their options," said Glenwood Springs-area REALTOR® Erin Bassett.
GOLDEN AND JEFFERSON COUNTY
"I'm one of those Realtors who believes the market is actually changing and we're not just experiencing a seasonal slowdown. With so many new apartments developments, we're losing the natural progression of first time homebuyers purchasing condos/townhomes and those sellers buying into the secondary market of a single-family home and on up the chain. The first time homebuyers cannot afford to buy in Denver and Jefferson counties and are electing to rent.
"Looking at the month of July, there were 822 single-family home listings 822 in July compared to 879 at this time last year. There were 755 sold listings versus 757 in July 2017. Days on market went down to 18 compared to 19 last year at this time. However, inventory supply is down to 1.4 months compared to 1.9. For condo/townhomes, there were 272 new listings in July 2018 versus 257 a year ago; 240 sold listings compared to 268 in July 2017, and just 10 days on the market compared to 12 last year. The inventory supply for condo/townhomes rose slightly to one month but is well off of a balanced market.
"In Golden, prices are dropping which is amazing as prices have not dropped in Golden for years! Again, I see the market changing and I do not think it is just seasonal," said Golden-area REALTOR® Barbara Ecker.
PUEBLO/PUEBLO WEST
"The July numbers are showing a slight down trend from 2017 to 2018 led by a 13.6 decline in sold listings, active listings down 12.7 percent, and a 2 percent decline in new listings. Some better numbers include days on market down 29 percent to 61 days, and inventory supply down nearly 17 percent to 2 months. Year-to-date new listings were up 4 percent, with solds up 1 percent. We had an 11.4 percent increase in our average sales price to $193,564 and the slowdown in showings that many agents are experiencing is driven by our overall low inventory. New construction permits are still strong, up nearly 30 percent, year-to-date. Pueblo West is the most active market with 163 permits, 61 percent of the County permits," said Pueblo-West REALTOR® David Anderson.
VAIL
"July was a weaker sales month than June for the valley as single family/duplex sales were down 28% and townhome/condo sales were negative 5%.  The decline or flat performance on units was in all price points except one for single family/duplex homes and the townhome/condo segment had the same trend with only one price niche showing an increase.  Year to date the total market is showing approximately a 2% unit increase while the dollar positive of 10% holds versus 2017.  Inventory is down approximately 14% versus July 2017 and months of supply are 8.3 for single family/duplex and 6.6 for townhome/condo.  The trend for inventory continues to show major declines in the under $1million market while upper price points have more normal months of supply.  The top of the pricing niches continues driving the overall volume increase while the opening price points are down with inventory being the catalyst.  The trend that began fourth quarter of 2017 seems to be continuing and the market has significant swings by location and price point.  There are both buyer and seller markets in the valley and opportunity exists with knowledgeable real estate professionals to guide the buyers and sellers," said Vail-area REALTOR® Mike Budd.
Sold Listings – Denver Metro Region – includes Adams, Arapahoe, Boulder, Broomfield, Denver, Douglas and Jefferson counties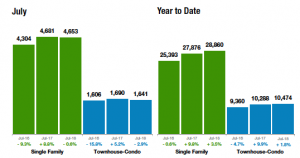 Sold Listings — Statewide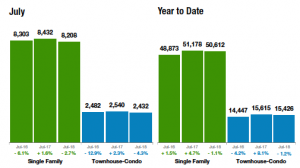 New Listings – Denver Metro Region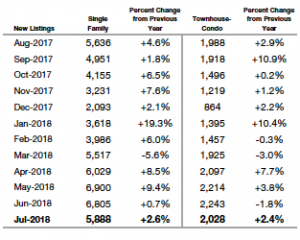 New Listings – Statewide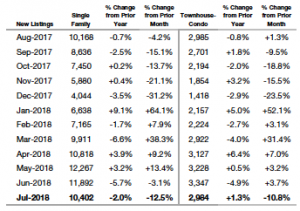 Median Sales Price Denver Metro area

Median Sales Price – Statewide

The Colorado Association of REALTORS® Monthly Market Statistical Reports are prepared by Showing Time, a leading showing software and market stats service provider to the residential real estate industry, and are based upon data provided by Multiple Listing Services (MLS) in Colorado.  The July 2018 reports represent all MLS-listed residential real estate transactions in the state.  The metrics do not include "For Sale by Owner" transactions or all new construction.
The complete reports cited in this press release, as well as county reports are available online at: https://coloradorealtors.com/market-trends/
###
CAR/SHOWING TIME RESEARCH METHODOLOGY
The Colorado Association of REALTORS® (CAR) Monthly Market Statistical Reports are prepared by Showing Time, a Minneapolis-based real estate technology company, and are based on data provided by Multiple Listing Services (MLS) in Colorado.  These reports represent all MLS-listed residential real estate transactions in the state.  The metrics do not include "For Sale by Owner" transactions or all new construction.  Showing Time uses its extensive resources and experience to scrub and validate the data before producing these reports.
The benefits of using MLS data (rather than Assessor Data or other sources) are:
Accuracy and Timeliness – MLS data are managed and monitored carefully.
Richness – MLS data can be segmented
Comprehensiveness – No sampling is involved; all transactions are included.
Oversight and Governance – MLS providers are accountable for the integrity of their systems.
Trends and changes are reliable due to the large number of records used in each report.
Late entries and status changes are accounted for as the historic record is updated each quarter.
The Colorado Association of REALTORS® is the state's largest real estate trade association representing more than 26,000 members statewide. The association supports private property rights, equal housing opportunities and is the "Voice of Real Estate" in Colorado.  For more information, visit https://coloradorealtors.com.