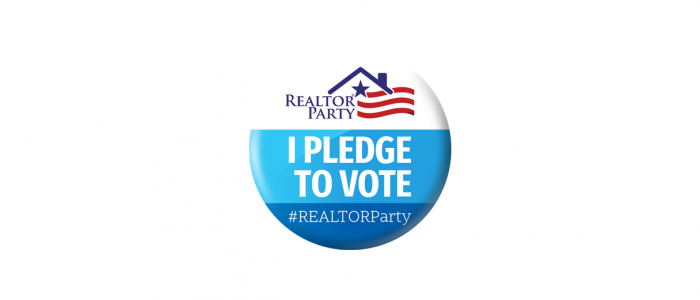 Vote REALTOR® Party on November 6th
Several Statewide Initiatives Make for a Complex Ballot – We're Here to Provide Information to Help You Decide
 

As we turn the pages of the calendar to the season of Fall and your T.V. is filled with playoff baseball, football and those pesky political ads, remember there is a lot to consider this election cycle that could dramatically impact your business and Colorado's economic future.

It's a LONG ballot this year (more than 3 pages!) and doing your civic duty will be more work this year, but I want to remind you that we are very fortunate to live in America and have the freedom to vote. So I hope that you embrace this opportunity and return your ballot by November 6th.

In this day and age when there are so many emotions at or near the surface on many controversial issues that divide friends, families, and office environments, I encourage you to be a critical reader and look at many different sources of information to help you make decisions on how you would like to vote.

In that context, we'd like to offer you some information you can review as you receive your ballots in the mail during the week of October 15-19. The CAR Government Affairs Division – in coordination with our many talented and dedicated volunteers on our policy committees and interview teams comprised of members throughout the state – have been working throughout the summer and fall to find REALTOR® Champions that are the most supportive of REALTOR® Party housing-based issues. In the case of statewide ballot initiatives, we're dedicated to giving you information on the critical issues that could most affect your industry and Colorado's economic future.

Voting is your right, and I encourage you to make up your own mind. But in case you want to know where CAR stands on critically-important ballot issues that will impact Colorado or have an impact on your real estate business, we offer you the following information:

| | | | | |
| --- | --- | --- | --- | --- |
| Vote YES | | | | Amendments Y and Z |
| Vote NO | | | | Amendment 73 |
| Vote NO | | | | Amendment 74 |
| Vote YES | | | | Proposition 110 |
| Vote NO | | | | Proposition 112 |


AMENDMENTS Y AND Z – Congressional and Legislative Redistricting ● VOTE YES!
The current map drawing system for state and congressional districts needs reform. Colorado could receive an eighth congressional seat after the 2020 Census due to increased population growth. Competitive districts enable policy makers to engage voters with opposing points of view resulting in better public policy for everyone. Click here for more information.

AMENDMENT 73 – Funding for Public Schools ● VOTE NO!
CAR strongly believes education should be a top priority for the state–we too want more funding to support the success of our schools, students and teachers. However, Amendment 73 is not the right approach. 97% of Colorado businesses are classified as small businesses and would be subject to this burdensome taxation. This amendment would significantly burden Colorado consumers' cost of living and harm Colorado's economy. It will also complicate our constitution and increase residential property taxes. Click here for more information.

AMENDMENT 74 – The "Takings" Initiative ● VOTE NO!
This amendment is filled with many unintended consequences harmful to taxpayers and detrimental to the well-being of Colorado's economy. It would expose state and city government to prolonged and expensive lawsuits, which could cause municipal governments to cut spending and/or increase taxation or fees on Colorado's taxpayers. City officials often regulate to protect consumers such as permits to limit where hazardous waste is stored or allow construction of affordable housing, or even regulate noise ordinances. All of these types of decisions would be at risk under this amendment. Similar types of measures have been passed in other states across the country and have ultimately cost them billions of dollars within the first few years. Click here for more information.

PROPOSITION 110 – Let's Go Colorado ● VOTE YES!
Colorado's transportation needs have been underserved for decades. Although effort has been made to direct dollars from the General Fund, it isn't enough to address the Colorado Department of Transportation's (CDOT) $9 billion deficit. Revenue from Colorado's gas tax continues to diminish as electric vehicles become more popular. The state's current revenue stream does not allow us to keep up with today's infrastructure needs or technological advancements. Proposition 110 provides a new, sustainable revenue stream to meet the state's growing infrastructure needs. It allows local cities and counties to address their pressing needs and ensures all transportation users, including tourists, contribute. Click here for more information.

PROPOSITION 112 – Setback Requirement for Oil and Gas ● VOTE NO!
Responsible oil and gas development plays an important role in Colorado's energy economy. Proposition 112 could have a devastating effect on Colorado's economy, with the potential to eliminate between 62% and 80% of annual new oil and gas development in the state and diminish job opportunities for Coloradans. 77% of all jobs lost would in fact be outside of the oil and gas industry. As the voice of Real Estate, we represent all property rights, including both surface and mineral rights. Proposition 112 would not only detrimentally impact mineral rights owners, but would diminish 30% of downtown Denver's commercial real estate, occupied today by Colorado's oil and gas industry. Click here for more information.

Ballots to all Colorado voters were mailed out Monday, October 15.
Click here to view Colorado Association of REALTOR®'s 2018 Ballot Guide for more information on ballot issues and candidates
Click Here to find out more about CAR's process on endorsement of candidates.

 
Support our REALTOR® Champions on November 6th.
Vote REALTOR® PARTY.