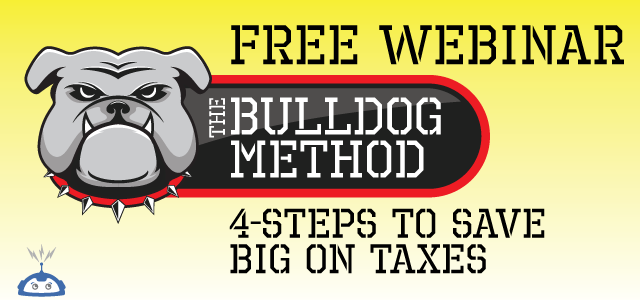 Free Taxbot Webinar: The Bulldog Method – 4 Steps to Save Big on Taxes
What is The Bulldog Method?
The Bulldog Method is a set of simple processes that can help self-employed people saving big money on taxes. We chose this name for a reason…
Bulldogs were bred to be fearless guard dogs.  An 80-pound bulldog can toss a 2,000 pound bull onto its back!  It was bred to be able to latch onto a bull, corkscrew its own body around the bulls neck, and toss the animal over its own center of gravity! That is tenacious!
What does that have to do with saving money on taxes?  Let me help you see how.
According to Forbes, 9 out of 10 self-employed people overpay their taxes – and most of them have no idea! They assume that because they used an accountant that they were getting everything they were entitled to.  But it just isn't true.  Recently we did a little experiment…
We invited 7 self-employed strangers to bring their tax returns into our office. All of them had their returns done by CPA's or by one of the big online filing software programs.  In less than 10 minutes, we found over $10,000 in missed savings on all their returns.  
We will tell you more about this on the webinar and show you how we did it. But the main point I want to make is that 9 out of 10 of you are overpaying your taxes.
Our Bulldog Method was designed as a process that will teach you how to sniff out, hunt down, and hold onto every tax deduction you are legally entitled to – while at the same time keeping you safe from the IRS.
Because you deserve to keep as much of your hard earned money as possible.
Here is what you will learn…
The 10 simple questions you can ask your current accountant to see if you need to switch to a better one – one that can do remarkable things.
Learn about the dirty secret we have all been brainwashed to believe about even the best accountants. Plus find out the simple method you can use to put a stop to this money-draining problem.
How to quickly learn what the top 5 deductions for your business are. Plus, get a short-cut that will help you learn everything you need to know about them in less than a day. Your accountants jaw will hit the floor when you display your new-found knowledge in your next meeting.
Discover how to force the most popular accounting systems to actually do your accounting in a way that will hold up in an IRS audit (Almost no-one is doing this and it is the reason why the IRS wins 9 out of 10 audits).
Find out about other software tools that can do most of the IRS compliance work for you… Automatically with almost no work from you.
Find out how to put your tax savings to work for you and design a wealth plan that is guaranteed to accelerate your ability to retire (even if you decide you don't want to officially).
How we found $10,000 of missed tax savings on the tax returns for 7 total strangers. (We did it in less than 6 minutes and all the tax returns had been professionally done). Plus we will show you how to see if you can find a quick $10,000 in hidden opportunities for free.
*PLUS as a bonus – When you register for the Bulldog Webinar we will send you a free digital copy of our "Crack the Code" ebook!
About your presenter: Sandy Botkin is a former IRS attorney. He is also a CPA and a best selling author of several books on finance and small business tax strategy. He is also a co-founder of Taxbot. Sandy has helped millions of self-employed people save on their taxes over the last 30 years.
Webinar Details:
Date: November 28, 2018
Time: 12 PM MST
Register by clicking here.
About Taxbot: Taxbot is an app that helps automate mileage and expense tracking for self-employed people. And it does it according to IRS rules so you can rest easy that you could win in an audit. Learn more at https://taxbot.com