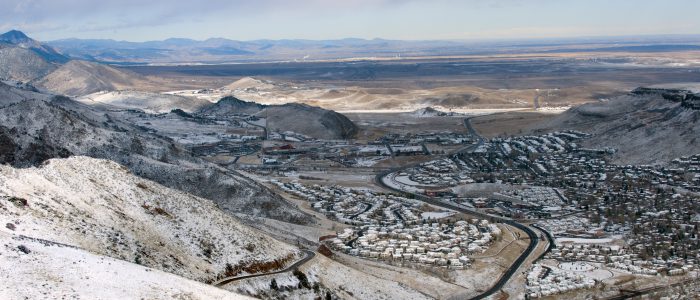 Colorado Housing Market Report for February 2019
Snow and cold temps blanket housing markets across the State creating wait-and-see game for buyers and sellers alike
###
ENGLEWOOD, CO. – March. 12, 2019 – With cold, wet conditions and record snowfall wreaking havoc across the state, Colorado's local housing markets are experiencing a mixed-bag of results, with early spring season expectations tempered by below normal temperatures and higher than normal snowfall in markets statewide, according to the latest monthly market trends data from the Colorado Association of REALTORS®.
Inventory is Improving Statewide and in the Denver Metro Area: With a less than 2 percent uptick in single-family new listings from January to February statewide, new listings in the townhome/condo market dipped the same 1.8 percent. However, when looking at the seven-county Denver metro area, new single-family home listings rose 6.6 percent from January to February while the townhome/condo market saw a 3.3 percent increase.
New Inventory is Getting Eaten up Quickly: Countering any movement in new listings, single-family sold properties rose 8.8 percent month-over-month across Colorado but remain down nearly 4 percent from a year ago. Townhome/condo solds in the state rose 13 percent from January to February but were down 4.7 percent from a year prior. Looking to the Denver metro area, single-family solds were up 13.5 percent month-over-month and remain up 2 percent from this time last year. Townhome/condo solds were up 18.6 percent from January to February but are down 1.5 percent from a year prior.
Statewide active listings fell more than 8 percent for single-family homes and are down 2.7 percent year-over-year. In the townhome/condo market, active listings fell off by 5.6 percent but remain up more than 11 percent from February 2018. In the Denver metro area, active listings rose 9 percent from January to February but are less than 2 percent higher than this time last year. A 4.2 percent increase in active listings for townhome/condos from January to February pales in comparison to the more than 25 percent increase in active listings from a year prior.
Median Prices Rising Statewide; Leveling off in the Metro: Finally, looking at the statewide single-family median sales price, February brought a 2.3 percent increase from the prior month to $384,900 and is up 2.6 percent from a year prior. In the townhome/condo market, the February median price of $296,000 was up 2.1 percent from a month prior and is up just 0.3 percent from February 2018. In the Denver metro market, single-family the median sales price rose just under 2 percent to $417,500 and is down 0.7 percent from a year prior. Looking at the townhome/condo market, the $298,000 median sales price is up 2.7 percent from January to February however, it is down less than one percent from a year ago.
Taking a closer look at some of the state's local market conditions, here are some perspectives from several of the Colorado Association of REALTORS® market trends spokespersons across the state:
AURORA/CENTENNIAL
"These are the numbers we have been waiting for! While wondering if the slower market was just a blip on the radar or if the spring market would heat up, our February numbers show that the market is heating back up. With varying results across zip codes, Aurora and Centennial are both experiencing higher inventory than we saw in January and home prices have risen back to pricing we saw last fall. This is good news for our sellers who must remember that the inventory is also up, so they need to be on target with asking price. With a little more inventory to choose from, this is also good news for buyers.
"The median home price in Aurora came in at $380,000, with the median condo price at $252,000, both up from a year prior. In Centennial, the median single-family home price sits at $482,000, and $311,250 for condos, also up from February 2018. All of this is still good news for a market that is on seasonally on track, with interest rates still low for buyers and improving conditions for sellers as well," said Aurora-area REALTOR® Sunny Banka.
BOULDER/BROOMFIELD
"What started as a meek beginning to the year seems to have continued in the Boulder County housing market, as all eyes are focused on the February numbers hoping they looked better than January. In Boulder County, we have 13 percent more inventory than we did at this time last year. Sales are down by a bit and prices are down about 1 percent from this time last year. This could be an indication that the year-end numbers from 2018 were more than just an unfortunate blip.  That being said, the unusually cold weather and snow has delayed our typically active spring market. So now, all eyes are now focused on March.
Looking to Broomfield, everyone still wants to sell their home. We have another record number of new listings on the market – 43 percent more than this time last year.  However, sales are brisk and the houses that are coming on the market are selling. Broomfield is showing a moderate 2 percent increase in pricing over last year, and with days on the market still hovering at 40, the market is still strong. The more affordable options in Broomfield County seem to lend to more activity compared to their Boulder neighbors," said Boulder-area REALTOR® Kelly Moye.
COLORADO SPRINGS/PIKES PEAK AREA
"After the record-setting boom in 2005, the Colorado Springs housing market continued to decline from 2006 to 2011. Starting in 2012, the real estate market began to improve gradually. By the end of 2015, the market exploded and surpassed the 2005 year-to-date single family/patio home sales by 126 properties, and the whirlwind momentum continued setting new records month-by-month. Comparing 2017 with 2005, year-to-date single family/patio home sales were 25 percent higher, YTD sales volume 60 percent higher, average price 21 percent higher, and the median price 34 percent higher than 2005. Following this unprecedented period of record-breaking sales and sales volume, it has become challenging to continue to exceed them every month. In the long run, the current steadier pace is good for the market, since the pathetically low inventory and record high prices have been putting buyers on a pause.
In the Colorado Springs area housing market, the year-over-year single-family/patio home sales activity in February 2019 saw a 24 percent increase in the active listings, a 23 percent increase in the months' supply, a 6 percent increase in the average price, an 8 percent increase in the median price, and a 3 percent increase in monthly sales volume. February 2019 had the highest single-family/patio homes monthly and year-to-date sales volumes, the highest average and median prices, and the second highest monthly and year-to-date sales, compared to any other month of February, ever. Last month, 75 percent of the single-family/patio homes sold were priced under $400,000, 14 percent between $400,000 and $500,000, 9 percent between $500,000 and $800,000, and 2 percent were priced over $800,000," said Colorado Springs-area REALTOR® Jay Gupta.
"The laws of gravity just don't seem to apply to our local housing market. I mean, what goes up, you would think, should come down. And, while I'm pretty sure that, at some point, we will say that prices have started to stall, the median sales price in our market was up across the board with increases ranging from 7.7 percent for single-family/patio homes to 6.2 percent for condo/townhomes.
"We did see the properties active on market increase by 4.7 percent year-over-year, but that has not really been felt in the form of relief since pending home sales also increased. In fact, agents in the city are once again finding themselves competing on offers on homes all the way up to $350,000 and beyond depending on the area.
"Nationally, job growth was way below anticipated numbers and yet we saw our local unemployment figures drop. So, the market continues to cruise along nationally and locally. No sign of interest rate increases as the FED says all is well for now.
"Things to watch including high consumer debt, high student loan debt, high delinquencies on auto loans…and yet prices on homes just keep staying, high. And that's not just because we are in Colorado. People love our Pikes Peak Region, and I don't blame them," said Colorado Springs-area REALTOR® Patrick Muldoon.
DENVER
"There are those who say, 'once is a fluke, twice is a trend' and for the second month this year, the numbers show Denver's real estate market is still normalizing. According to data provided by the Colorado Association of REALTORS® for this year's second month, the number of new listings is up 13.6 percent while the total sales remain statistically unchanged from this time last year. Though the shift isn't necessarily bad news, supply going up while demand doesn't absorb it indicates a lessening overall demand – at least for what's currently available in Denver County. Another strong indicator of buyer and seller behavior is the amount of days a home sits on the market. February concluded with an average of 32 days and while a month on market isn't considered unhealthy, February of last year was just a hair over 3 weeks – an upward trend of just over 39 percent this month. The evidence now supports a thought that the buyer's appetite – likely fueled by strong price appreciation – has reached its peak and an overall shift in the market has already taken place," said Denver-area REALTOR® Matthew Leprino.
DURANGO
"Durango continues to be hit with snowstorm after snowstorm since the beginning of the year, resulting in a steep decline in year-to-date new listings. The weather has also impacted sold listings, which are down almost 8 percent YTD. Median home pricing remains virtually unchanged since last year. Townhouse/condo sales are also down due to historically low inventory levels. Durango should see an increase in available housing stock coming to the market in the next 30- 60 days with the announcement of BP pulling out of our market and relocating personnel to Texas and Denver. These are higher level employees who own homes in the $500,000 to $1 million range. Several of these homes have already hit the market since the beginning of March. It is uncertain how this is going to affect the overall market this year. With the winter weather being as severe as it has this season, many second home owners have elected to keep their properties off the market until later this spring. We are anticipating a very busy summer selling season as a result of the harsh winter and the pent-up demand from last year's dismal fire-related season," said Durango-area REALTOR® Jarrod Nixon.
ESTES PARK
"'In like a lion, out like a lamb' has always seemed a straightforward enough proverb. March begins, it's still winter, and by the end of the month spring has sprung. Will this be the trend for the real estate market in the Estes Valley or will winter hang on tightly to keep a freeze on new listings and sales? Currently in the Estes Valley, new listings are bringing the heat with a 6.2 percent increase for single- family and just over 9 percent increase in townhouse/condos. Current active listings sit at 764 for single-family, an 8.7 percent year-over-year increase, and 239 for townhouse/condos a 17.7 percent increase in townhome/condos. Along with the additional inventory, the average sale price is also elevating the thermal readings with 2.8 percent increase over last year in single-family homes and a 3.6 percent increase over last year for townhouse/condos.
"To counteract the increase in average sale price and new inventory, there is a softening in the days on the market, specifically to the townhouse/condo market. These units are staying on the market for an average of 109 days compared to 2018 figures at 93 days. Overall, sold listings are down 14.6 percent for single-family and down 16.5 percent in the townhouse/condo market. The percent of list price received indicates no decline in desirability as single-family homes fetched 98.6 percent and townhouse/condos were a pinch better at 98.7 percent. This is a slight decrease from 2018 figures but only a .5 percent and a .9 percent dip, respectively. No distinct winner emerges yet, the lion or the lamb, as anticipation of a changing season is upon us," said Estes Park-area REALTOR® Abbey Pontius.
FORT COLLINS
"Bubble or boom? Ft. Collins' market statistics for February indicate that we are still seeing a rise in values and a strong seller's market. Inventory of single-family homes continues to hover around one month, while townhomes and condos holds mostly steady at 1.6 months. With a balanced market defined as 6 months of inventory, we're still a long way from that measure. While prices continue to remain on an upward march, buyers have experienced a brief respite due to lower interest rates increasing their purchasing power and the potential of a cash influx due to higher expected income tax returns based on the increased standard deductions. Whether it's bubble or boom absolutely depends on your unique situation as a buyer, seller, investor or tenant," said Fort Collins-area REALTOR® Bob Sutton.
ROARING FORK AND COLORADO RIVER VALLEYS
"The key word in the Roaring Fork and Colorado River Valleys remains 'inventory.' As we examine inventory stats in each zip code, whether in actual numbers of homes or number of 'affordably-priced homes' remains the topic of discussion.
Year-over-year activity in Rifle has held steady both in the new and sold listings across all residential markets. The median sales price for single-family homes was up 26 percent ($297,000) and up almost 23 percent ($216,000) in the townhome/condo market. Inventory is at an all-time low in both markets with 1.8 months of inventory supply in single family and 0.2 months in the townhome/condo sector. With rumors of new construction on the horizon, this market is one to pay attention to as spring arrives.
Probably the most affordable community in our region, Silt's February median sales price is down over last year by 13 percent to $295,000. Silt has 24 single-family homes and 4 townhomes on the market as of the date of this report. New and sold listings are comparable to February 2018.
Following the mighty Colorado to New Castle, we start to notice significant changes in price. The median sales price of a single-family home in February was $405,000, up 20 percent over last February. Inventory is down almost 40 percent with a 2.6-month supply. The townhome/condo market is down more considerably with new listings down 66 percent and just 0.7 months of supply. Based on those numbers, the median sales price was up almost 20 percent to $300,000.
Looking to Glenwood Springs, we see how the rise in prices effects the overall numbers with single-family home inventory exactly the same as February 2018 – 51 listings and a 3.6-month supply, new listings up by just two homes, and solds down by 8 properties. While prices are down over February of last year, they are considerably higher than our western neighbors with the median sales price at $495,000, an average sales price of $547,500, and days on market up 56 percent over last year. The townhome/condo market has remained steady from 2018 with one more property listed and one less sold, inventory remained the same but days on market up 203 percent.
Turning our attention to Carbondale, the median sales price for a single-family home sits at $698,000, with an average sales price of $759,000. As a result, we see a higher supply of inventory at 7.2 months with 105 homes for sale. New listings were down by 7, sales down by 2, and days on market was 156. The townhome/condo market is not far behind with the median sales price of $610,000, new listings were up by 6 properties, and there were 32 properties for sale with a 5.6-month supply of inventory," said Glenwood Springs-area REALTOR® Erin Bassett.
GRAND JUNCTION
"Housing sales were down 18 percent in the Grand Junction/Mesa County housing market during the month of February when compared to the same time last year. Limited inventory, rising prices, and uncertainty over interest rates continue to be the contributing factors, as well as the volatility of the markets and weather affecting traffic at open houses and showings. At of the end of February, there were less than 700 active listings. We do not anticipate any substantial inventory increase, even though spring time is usually a very active time for us all," said Grand Junction-area REALTOR® Ann Hayes.
JEFFERSON COUNTY/GOLDEN
"With winter hanging around and the temperatures as cold as they have been, buyers are just not getting out to look at homes yet. Sellers are definitely getting their homes on the market as evidenced by February's 2.6 percent year-over-year increase in new listings from 605 to 621. Sold homes increased by 1.2 percent with the average sales price in Jefferson County now at $517,381.
"The market should start heating up as the weather turns warmer. The seller's market will continue, however, likely not as hot as it has been the last few years. We'll continue to see multiple contracts offered on homes under $300,000, especially if they are in good shape.
"As for townhomes/condos, February brought an increase in new listings just over 8 percent from this time last year, and there were more units sold, 165 compared to 160 in February 2018. The average sales price for townhomes/condos is also up year-over-year to $276,000. However, so have days on market, rising from 13 to 25 days, a more than 92 percent bump.
"Looking at Golden, there remain very few single-family listings on the market and the ones that exist sell pretty fast," said Jefferson County/Golden-area REALTOR® Barb Ecker.
PAGOSA SPRINGS
"Perhaps it is time to take down the 'Let It Snow' signs as Pagosa Springs snowfall rivals its normal snowfall years. Yes, the snow brought skiers, and some buyers in the last few months. January-February sales were down by 20 percent, mostly attributed to low inventory of homes priced under $400,000. However, the median sale price ($380,000) is up 12 percent and average sale price jumped from $396,751 to $477,147, a significant 20 percent increase, year-over-year. Over three-quarters of February sales actually went under contract in January and February, during the bulk of winter storms as the first quarter typically brings serious buyers who have no problem making a buying decision. With consideration of winter conditions, listings were down by just 5 percent. Last year's light winter brought listings to the market early (in February). What may bait sellers to place homes for sale earlier this spring is the rise in median and average sales prices and all-time lower days on market numbers (resting at 152 days). For buyers in the $1 million range, inventory is high at 34 homes, with more to hit the market in late spring. It's no surprise that since townhome/condo new listings were up by 75 percent in February and March, sales numbers should be strong. Condo and townhome inventory continues to lag and begs for new construction. Land sales were strong in January and February. Mostly quarter-lot sales, which is attributed to spec builders setting their sights on new construction in spring. We anticipate new construction prices will be well over mid $300s and well beyond affordable housing demands.
###
"With limited workforce in Pagosa Springs, it is predicted there will not be enough new construction supply for the housing demand. Like many other markets across the state, Pagosa Springs struggles with new construction in the affordable range (under $300,000) for full-time working residents. Lot sales are also strong with lack of inventory in homes under $400,000. Retirees are purchasing land while prices are affordable. Pagosa Springs has always been strong in land sales for retirees, as they buy now and tend to build within 5-7 years of their retirement. Buyers who have discovered the value, beauty, and lifestyle of quaint Pagosa Springs are also discovering rising prices, month after month, in home, condo and land sales," said Pagosa Springs-area REALTOR® Wen Saunders.
PUEBLO/PUEBLO WEST
"Two months into the year and our housing market is revealing negative numbers compared to a year ago. Showings are down a bit, mostly impacted by the continued low inventory. While inventory got to a high point in the Q3 2018, it has been dropping ever since. Supply has remained in the two-to-three- month range for the last two-and-a-half years. While new listings are down 12.6 percent compared to last February, the number is slightly better (-9.4 percent) year-over-year. Pending sales were down 4.4 percent from last February and down 11.4 percent year-over-year. Solds are where the big drop occurs, down 26 percent February to February and -17.3 percent year-over-year. Our median sales price of $206,500 is up 13.2 percent in February 2019 compared to February 2018, and the average sale price is up just over 11 percent to $199,950 year-over-year. The percent of list price received is still above 98 percent. On the building side, new permits were down from January, yet builders and REALTORS alike are still optimistic and planning on a strong year," said Pueblo-West REALTOR® David Anderson.
ROYAL GORGE AREA – FREMONT AND CUSTER COUNTIES
"Custer County real estate is in its normal hibernation period as the cold winter months keep locals by the fireplace enjoying the views from the window. Typically, monthly sales double during the months from May through August. The $226,000 median sale price in the county is down just a bit from this time last year but will increase in the warmer months as the snow melts and the larger properties come on the market. Everyone is enjoying the quiet while waiting for springtime in the high Sangre de Cristo Mountains.
"Fremont County housing activity is starting to pick up. New listings were down slightly from last February due to a higher than normal amount of new January listings. Sold residential units were up by more than 13 percent over February 2018. The $199,500 median sale price and $212,606 average sale price have shown steady growth over the year. Canon City was in competition over the last few months for the number one position on the TV show 'Small Business Revolution — Main Street.' Although it missed making it to the top spot, the City and State's enthusiasm showed what a great community can do when they all come together for a common goal and brought nice additional attention to this beautiful, affordable community recognized as one of the top six small communities in the entire United States," said Royal Gorge-area REALTOR® David Madone.
VAIL
"The month of February was positive 9.6 percent in transactions from a year ago, but negative in total dollars 6 percent. On a year-to-date basis, transactions are plus 6.2 percent versus same period in 2018. Year-to-date dollars show a positive 5 percent from 2018 due to the strong January performance. It is very encouraging to see indications of a solid first quarter performance for the Valley with pending sales up 23 percent for the month and 13.2 percent year-to-date. The trend that began last year, where 4-5 percent of our transactions equaled 30 percent of the dollars, continues, thus skewing statistics such as average and median sales performance.
"The only market statistic that is a bit negative is our listing inventory which is down 6.5 percent versus the same period in 2018. Thus, based upon an equally positive absorption rate, we have a 6 percent decline in month's supply of inventory on the market. As we enter the next couple of months our listing base remains relatively static until the spring increase of product prior to summer selling season. As a result, we will hover around 6 months which is stable in a traditional residential market but a bit low for the resort markets.
"The lifestyle wishes have been fulfilled with great snow for the resorts. But even more significant for the residents is the snowpack region, which will bring water to streams, rivers and reservoirs helping replenish them for the coming summer season," said Vail-area REALTOR® Mike Budd.
TELLURIDE
"The Telluride market bounced back in February with the dollar amount of sales up 16 percent and the total number of sales up 3 percent. A large condominium sold for $5.7 million in the Town of Telluride but interestingly, there was only one single-family home sale in Telluride. There seems to be a continuing trend for brisk sales of condominiums in the Mountain Village and the Town of Telluride. We get weekly emails from REALTORS® looking for homes and condominiums in the Mountain Village and Town of Telluride in the bottom third of our price range where there are few. Generally, resort markets are not affected by interest rates moving up and down in the 4 to 5 percent range. Ironically, when interest rates move upward, our clients are happier because their money is finally working better for them. Historically, in resort markets, our buyers are happier when interest rates move up to even the 6 and 7 percent range. That just means they are doing better economically. About half of the buyers in Telluride pay cash for their property and low leverage when they get a loan. The resort markets sell a discretionary real estate product, hence the buyers want to feel good about the overall economy in the U.S. and globally, too. With the inflation and growth rate each predicted to be about 2 percent this year, we anticipate a stable real estate market except for the high-end home market. We just have too many over-priced, high-end homes in Telluride, as well as many of the other Colorado resorts," said Telluride-area REALTOR® George Harvey.
Inventory of New Listings – Statewide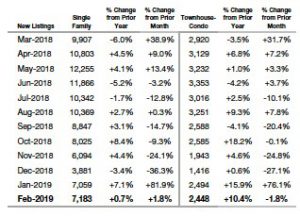 Inventory of New Listings – Denver Metro area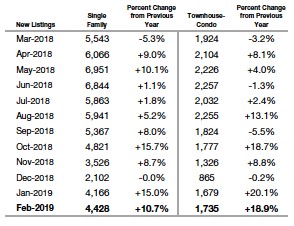 Inventory of Active Listings – Statewide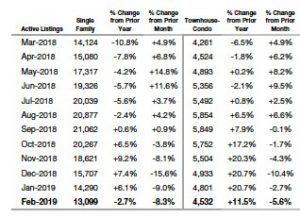 Inventory of Active Listings – Denver Metro area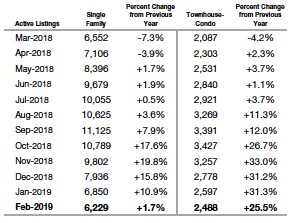 ###
###
###
The Colorado Association of REALTORS® Monthly Market Statistical Reports are prepared by Showing Time, a leading showing software and market stats service provider to the residential real estate industry, and are based upon data provided by Multiple Listing Services (MLS) in Colorado.  The February 2019 reports represent all MLS-listed residential real estate transactions in the state.  The metrics do not include "For Sale by Owner" transactions or all new construction.
The complete reports cited in this press release, as well as county reports are available online at: https://coloradorealtors.com/market-trends/
###
###
 ###
CAR/SHOWING TIME RESEARCH METHODOLOGY
The Colorado Association of REALTORS® (CAR) Monthly Market Statistical Reports are prepared by Showing Time, a Minneapolis-based real estate technology company, and are based on data provided by Multiple Listing Services (MLS) in Colorado.  These reports represent all MLS-listed residential real estate transactions in the state.  The metrics do not include "For Sale by Owner" transactions or all new construction.  Showing Time uses its extensive resources and experience to scrub and validate the data before producing these reports.
The benefits of using MLS data (rather than Assessor Data or other sources) are:
Accuracy and Timeliness – MLS data are managed and monitored carefully.
 Richness – MLS data can be segmented
Comprehensiveness – No sampling is involved; all transactions are included.
Oversight and Governance – MLS providers are accountable for the integrity of their systems.
Trends and changes are reliable due to the large number of records used in each report.
Late entries and status changes are accounted for as the historic record is updated each quarter.
###
###
The Colorado Association of REALTORS® is the state's largest real estate trade association representing more than 26,500 members statewide. The association supports private property rights, equal housing opportunities and is the "Voice of Real Estate" in Colorado.  For more information, visit https://coloradorealtors.com.