Capitol Connection: March 30, 2019
Update: House Bill 19-1006: Wildfire Mitigation Wildland-Urban Interface Areas
HB19-1006, sponsored by Rep. Barbara McLachlan (D-Durango), Rep. Terri Carver (R-Colorado Springs) and Sen. Rhonda Fields (D-Aurora), creates a state grant program to fund proactive forest management and fuel reduction projects to reduce the impacts of wildfires to life, property and critical infrastructure. This is one of the Wildfire Matters Review Committee bills from the interim that convenes over the summer months.
###
CAR testified in support of the revised bill and a significant amendment in the House Rural Affairs and Agriculture Committee on March 14th. The bill as amended appropriates $3 million dollars to create a grant fund in the state treasury that is administered by Colorado State University to fund forest management and fuel reduction projects from homeowners whose property is located within a community wildfire protection plan.
###
CAR's Legislative Policy Committee (LPC) supports this legislation because the transfer of funding to the grant program enables homeowners and communities together to tackle forest management and fuels reduction projects that reduce the life-threatening and destructive impacts caused to life, property and infrastructure each year. This is an important step to lessen the devastating impact of wildfires and equip our communities with the tools and resources necessary to give residents more adequate risk mitigation funding to protect private property and the lives of our Colorado families and hardworking firefighters and emergency personnel.
###
CAR actively follows the interim legislation and works with stakeholders to address wildfire prevention and mitigation because it protects our environment and ensures strong property values in our wildland urban interfaces. Click here to learn more about our work with Colorado Project Wildfire. The bill will next go to the House Appropriations Committee in the coming weeks.
###
House Bill 19-1245: Affordable Housing Funding from Vendor Fee Changes
HB19-1245, sponsored by Rep. Mike Weissman (D-Aurora) and Sen. Julie Gonzales (D-Denver), changes the sales and use taxes collected by vendors by increasing the existing state vendor fee from 3.33 percent to 4 percent and caps the monthly vendor fee allowance at $1,000 per account. The increase in sales taxes attributable to the vendor fee will be allocated for the development of affordable housing administered under the Department of Local Affairs (DOLA). Eighty-five percent of the net revenue would be allocated to the old age pension fund, and fifteen percent would be allocated to two priorities: 1) addressing property that has been damaged by a natural disaster and 2) affordable housing projects for households whose annual income is less than or equal to thirty percent of the area median income.
###
Under current law, the Housing Development Grant Fund is used by the General Assembly to acquire, rehabilitate and construct affordable housing projects through a competitive grant process. The fund also covers the cost of acquiring economic data used to advise the State Housing Board on local housing conditions. CAR's Legislative Policy Committee (LPC) supports this legislation because it is a step in the right direction to provide more diverse affordable housing options for Colorado residents. It also helps citizens who face natural disasters rebuild their lives after their significant investment has been damaged through no fault of their own. CAR continues to work to identify good public policy that allows all Coloradans the opportunity of homeownership whether they are first-time homebuyers, critical civil servants or senior citizens.
###
Read CAR's Innovative Housing Study, a 50-state research analysis, designed to identify the most innovative and successful programs being implemented across the country to address the lack of affordable housing.
Update: House Bill 19-1170: Residential Tenants Health and Safety Act
HB19-1170, sponsored by Rep. Dominique Jackson (D-Aurora), Rep. Mike Weissman (D-Aurora), Sen. Angela Williams (D-Denver) and Sen. Jeff Bridges (D-Greenwood Village), modifies the implied warranty of habitability laws dealing with a residential lease between landlords and tenants. Current law presumes that every rental agreement between a landlord and a tenant carries an implicit guarantee that a residential property is fit for human habitation. This bill modifies the conditions that trigger a breach of the warranty of habitability, establishes a process for notifying a landlord of any potential problems with the premises and creates time limits for the landlord to address defective conditions in a reasonable time frame.
###
The bill is in a conference committee as legislators from the House and Senate work out their differences and divergent amendments. CAR's Legislative Policy Committee (LPC) is neutral on this legislation as we continue to work with stakeholders and state legislators to ensure this public policy is balanced to protect the health and safety of tenants, while ensuring any new regulations enable a functioning business climate that provides clarity of operations to the property owners and their tenants.
Help our Nebraska REALTOR® Neighbors
The Nebraska REALTORS® Association and their Home Buyer's Assistance Foundation have partnered with the National Association's REALTORS® Relief Foundation and have received a $500,000 grant to help those affected by the Nebraska flood. Flood victims can apply for mortgage or rental assistance for up to $1,000! Please visit the Nebraska REALTORS® website for more information. Also, please consider making a donation to the REALTORS® Relief Foundation using the link here.
CAR Spring Summit (April 23-25, 2019)
The 2019 CAR Spring Summit is just around the corner. Spring Summit is packed with business meetings, new ideas, vendors, networking and fun. The Four Seasons in Vail is the place to be Apr. 23-25, 2019. Also, during Spring Summit, join us to celebrate 50 years of RPAC at our annual Spring RPAC Reception, A Diamond is Forever. Join us in your best James Bond attire to support 50 years of RPAC and even enter a raffle to win a diamond. Registration for Spring Summit is available online. Click here for more information and the link to register.
NAR Midyear Legislative Meetings (May 13-18, 2019)
The REALTORS® Legislative Meetings and Trade Expo allows NAR members an opportunity to take an active role in advancing the real estate industry, and public policy directly. REALTORS® come to Washington, DC, for special issues forums, committee meetings, legislative activities, hill visits and the industry trade show. Registration is now open. Click here for more information.
###
For Colorado, we have nine hill visits to complete and as we approach May, CAR Government Affairs staff will be in contact with attendees regarding the hill visits meeting schedule for their specific congressional district.
50th Anniversary of RPAC
This year marks 50 years of RPAC's work to advance the American dream of homeownership. Nationally, RPAC has grown from just 300 REALTORS® investing $28,000 to more than 98,000 REALTORS® investing over $36.5 million.
###
The purpose of RPAC is to support candidates that support REALTOR® issues. Our goal is to elect pro-REALTOR® candidates at the local, state, and federal levels – candidates that share our support for homeownership, protect property rights, and who will listen to our concerns. Investing in RPAC is one of the easiest things you can do to protect your business. Our goal raise funds to continue to support Colorado's REALTOR® champions and ensure we achieve the policy outcomes necessary to protect property rights. Click here to invest today!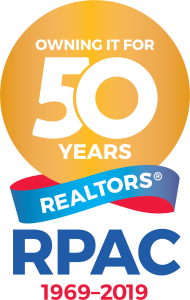 ###
Colorado Project Wildfire
###
Developed by the Colorado Association of REALTORS®, Project Wildfire is designed to help reduce the destruction of land, property, and lives. Working in partnership with other like-minded fire prevention organizations across the state, local REALTOR® associations are bringing education and awareness, as well as access to resources, directly to residents in their local communities. To learn more about Colorado Project Wildfire, click here.
###
Sign up for REALTOR® Party Mobile Alerts
###
More than 50,000 REALTORS® from across the country have already signed up for REALTOR® Party Mobile Alerts – have you? Text REALTORS to 30644 to stay up to date on REALTOR® issues!  You'll be among the first to know about NAR Calls for Action and more! Click here for more information.