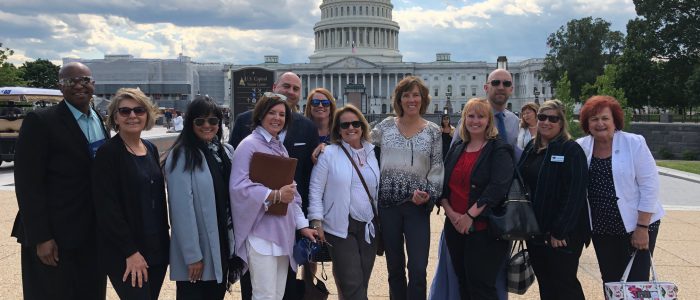 Colorado REALTORS® Go to Washington
Nearly 150 Colorado REALTORS® joined thousands of their colleagues for the National Association of REALTORS® Legislative Meetings & Trade Expo held in Washington, DC, May 13-18, 2019.
The week's agenda included committee meetings, updates on public policy issues, and training sessions. However, the most important component was developing and cultivating strong relationships with senators and representatives and educating them on NAR's public policy objectives, which included:
Long-term reauthorization of flood insurance
Infrastructure investment
Data and privacy security
Expanding Fair Housing laws to include protections for the LGBT community
Colorado REALTORS® met with members of Colorado's congressional delegation, including U.S. Senators Cory Gardner and Michael Bennet, and U.S. Representatives Ken Buck, Jason Crow, Doug Lamborn, and Joe Neguse.
The week concluded with President Donald Trump addressing an overflowing crowd on Friday, May 18. Trump was the first president to address the National Association of REALTORS® since George W. Bush in May 2005.
Trump said, "When a young family needs room to grow; when a new job sparks a new adventure in a brand new, beautiful city; when parents want to find the right neighborhood and schools for their children, Americans put our trust in you — our great REALTORS®."
CAR Chair Justin Knoll said the meeting with Colorado's congressional delegation were the highlight of the week for him. "It's a great opportunity for us to tell the stories of home ownership from our clients' perspective and how the decisions law makers face daily affect them."
Colorado REALTOR® Natalie Davis agreed. "We are fortunate to have a great relationship with our senators and congressmen. Connecting with the freshman congressman during the Hill visits helped in driving home the point of how dedicated REALTORS® are when it comes to protecting private property rights and the integrity of how we conduct our business on a day to day basis. "
Knoll suggested any REALTOR® interested in advancing NAR's mission get involved in advocacy. "You don't have to be a political junkie or have strong feelings about all issues to be involved in advocacy for homeownership," he said. "This is your chance to be heard and seen by those making decisions on our behalf. Even the smallest issues need the loudest voice, and yours matters."
Davis offered suggestions for those REALTORS® who may be thinking of getting involved. "Get plugged into the NAR REALTOR® Party website; there is a wealth of information found on the site that will help [you] become more familiar with our advocacy initiatives. If [you] are looking to serve on the local level, get plugged into [your] local Government Affairs committee and possibly connect with a Federal Political Coordinator to see if there is an opportunity to serve on their FPC Team."
Knoll said the Hill visits are an important component to helping raise the voice of REALTORS® and homeowners in the nation's capital.
"I know from talking directly with our elected officials that what we do matters," he said. "They tell us that every time. They don't have all the facts with context and [REALTORS®] are able to deliver that while we meet. What we do absolutely makes a difference."