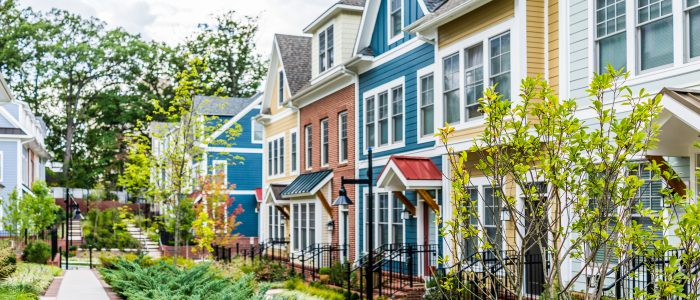 Demand Devours Inventory Despite Record Number of New Listings
FOR IMMEDIATE RELEASE
Contact: Marty Schechter
for CAR
303-882-4585 cell
marty@schechterpr.com 
Demand devours inventory despite record number of new listings
Record number of new listings across state can't correct housing inventory and affordability challenges as prices continue climb
https://coloradorealtors.com/market-trends/regional-and-statewide-statistics/
ENGLEWOOD, CO. – June 12, 2019 – Despite a record number of new single-family (12,962) and condo/townhome (3,768) listings hitting the Colorado housing market in a record cold May, strong demand and low interest rates fueled sales that helped drive prices higher and reduce the average number of days on market for available inventory, according to the latest monthly market data from the Colorado Association of REALTORS®.
Statewide, new inventory of single-family homes was up 15 percent from April to May and 5.7 percent over this time last year. For condo/townhomes, new inventory was up more than 19 percent from a month prior and 16.4 percent higher than May 2018. In the seven-county Denver metro area, new inventory rose 18.7 percent from April to May and nearly 16 percent above where we stood in May 2018. For condo/townhomes, new inventory is up 20 percent over this time last year.
However, sold listings flirted with record highs in the Denver metro area and were strong statewide leading to a continued, albeit slowed, increase in median pricing. In the seven-county metro region, median pricing hit a record $451,000, up 3.7 percent from a year ago. Statewide, median pricing for a single-family home reached $412,000, up 4.3 percent from May 2018. The median price of a condo/townhome also reached a record high of $315,000 for both the metro area and statewide.
While average days-on-market (DOM) slipped from April to May, the important measurement of market inventory and stability is well above where we stood a year ago. Across the state, the 42 DOM for single-family homes is up 5 percent from May 2018 and the 45 DOM for condo/townhomes is more than 18 percent better than a year prior. Looking at the Denver-metro region, a 26 DOM average for single-family homes is 4 percent above where things were in May 2018 and the 30 DOM for condo/townhomes is nearly 43 percent higher than a year ago.
All of these market conditions pushed CAR's Housing Affordability Index – a measure of how affordable a region's housing is to its consumers based on interest rates, median sales price and median income by county – to near record lows.
Taking a look at some of the state's local market conditions, Colorado Association of REALTORS® market trends spokespersons provided the following assessments:
AURORA/CENTENNIAL
"We hear location, location, location and that is reflected in the most recent market statistics. Overall, inventory in Aurora is up 23 percent. However, when you take a local, by zip code look, 80010 shows the same inventory numbers as 2018. Days on market are fewer for 80010 and the price is down just slightly from 2018. Solds for this zip code were up 15 percent, with a median price of $306,000. Other Aurora zip codes reflect some of the same story as the Denver metro market: Higher inventory, slower sales and more days on the market. The current median price for Aurora is $390,000, which is up 1.3 percent from this time last year.
"Centennial's numbers reflect an inventory increase of almost 18 percent over 2018. Average days on market are 17, with the number of sold properties up 2.6 percent. The median price in Centennial is $505,000, up 5.8 percent from 2018. The numbers still indicate a strong market, although prices are not increasing at the pace seen in years past. This should give buyers an opportunity to find their desired home," said Aurora-area REALTOR® Sunny Banka.
BOULDER/BROOMFIELD
"If spring is the best time to list a home for sale, Broomfield County residents didn't get the memo. New listings are down 3.4 percent from the beginning of the year and, astonishingly, down from last May a whopping 85 percent. With inventory tight, listings are selling quickly, an average of 37 days for single-family homes and 21 days for townhomes/condos. Prices have seen an appreciation of 9.8 percent since last May for homes and are holding about even since last year for attached dwellings. Without many affordable options, many homeowners are choosing to stay in their current homes and remodel instead of making a move, keeping our inventory tight.
"Inventory is also down in Boulder County, but prices remain about even with last year. With no appreciation gain in prices since the beginning of the year, Boulder County appears to be experiencing a market plateau: inventory is tight, homes sell within 52 days, but prices aren't going up. Sellers who assume appreciation from last year are finding themselves in a price reduction race to get their home sold. Townhomes and condos are also slowing down and with numbers in the red (prices down 5.6 percent so far this year), pricing a property correctly is the name of the game in Boulder County," said Boulder-area REALTOR® Kelly Moye.
COLORADO SPRINGS/PIKES PEAK AREA
"Colorado Springs area weather may have changed but the housing market remains strong and steady. During the past two years in the month of May, single-family/patio home active listings and home sale levels have been remarkably steady. In May 2018, there were 1,885 active listings, 1,568 monthly sales, and 5,967 year-to-date sales while in May 2019, there were 1,849 active listings, 1,564 monthly sales, and 5,932 year-to-date sales. Unlike some other areas in the country, sales-price growth has not hit a wall in our market. From May 2018 to May 2019, the average price increased 4.6 percent and median price 3.8 percent. May 2019 had the highest level of single-family/patio home year-to-date sales volume along with highest average and median sale price levels compared to any prior month of May on record. Last month, the days on market were 25 days and sales price to list price ratio was 100.3 percent. Even in a strong and steady real estate market with low inventory, not every listed property will sell as buyers generally purchase properties offering competitive values. In May 2019, more than 32 percent of El Paso and Teller counties active listings in the Pikes Peak MLS had price reductions.
"Last month, 85.4 percent of the single-family/patio homes sold through Pikes Peak MLS were priced under $500,000, 12.3 percent between $500,000 and $800,000, and 2.3 percent were priced over $800,000. Year-over-year, there was a 21 percent drop in the sale of single-family/patio homes priced under $300,000, primarily due to the inventory shortage, while a 16 percent increase in homes priced between $300,000 and $400,000, and a robust 35 percent increase in homes priced between $500,000 and $600,000. Unequivocally, low inventory and affordability challenges due to ever-soaring prices continue to be the most problematic aspect of the Colorado Springs area housing market," said Colorado Springs-area REALTOR® Jay Gupta.
"The spring was cool, as far as temperature goes, a welcome change in our state with rain, cooler temps, high snowpack and some great skiing. But the cooler temperatures did not cool off the housing market. Nothing has in the Pikes Peak Region. Not snow, wind, hail or anything Mother Nature could throw at us in the last year. Sold listings across all properties were down 1.8 percent and, as the sold properties saw a drop, we increased our median sales price 4.9 percent year-over-year. Total inventory pulled back again over last year, leaving buyers with fewer homes to pick from. We cannot seem to break this cycle. The only real change is that prices did not increase as fast as they have in years past. But relief for buyers does not seem to be anywhere in sight as we start to break into the summertime selling season.
"Overall, the actual economic climate is trending down. Numerous indicators show that the world economy and countries may be nearing recessions.  Even in the United States, the FED was hinting, or all-out yelling, that they see it too. Last year we were sure to see numerous interest rate hikes, and now FED Chair Powell is not denying that interest rate drops are on the table. Sellers can make hay while the sun shines this summer. The only great news for local buyers is that interest rates are likely to stay steady or even pull back as we enter the second half of the year. And, as long government continues to keep rates down and money close to free, everyone seems to be happy. Time will tell if this long-term strategy is going to be successful or a detriment to the future economies," said Colorado Springs-area REALTOR® Patrick Muldoon.
DENVER
"The Denver County market was strong this May as prices continue to stabilize and inventory creeps ever-so-slowly back to balance. The median price for a single-family home this month was $508,000, up less than 1 percent from the previous year – noteworthy as May 2017 to May of 2018 was up 11.5 percent. Additionally, there have only been two other months in the last three-and-a-half years where more than 1,000 new, single- family homes came to market, the previous in May of last year and June of 2016. The final tell of our balancing act comes from the average days on market this May being the first in three years to surpass a very healthy and not at all troubling 20 days," said Denver-area REALTOR® Matthew Leprino.
DURANGO
"With a colder than usual springtime and late season snowfall, Durango and La Plata County saw spring sales continue their upward trend, just not as robustly as in 2018 when warm weather hit early. With new listings coming on the market just slightly behind the numbers seen in 2018, we expect pending sales and solds to follow, in our traditional six-week lag pattern. Median sales prices of single-family homes jumped 10 percent with new construction sales escalating across the county. With low rates continuing and conditions aligning, a strong healthy summer market is expected starting in June and continuing through the 2019 sales season," said Durango-area REALTOR® Jarrod Nixon.
ESTES PARK
"As the snow melts and the rivers swell, the Estes Valley is slowly gaining momentum for a hot summer. New listings are still down 1.2 percent as Old Man Winter held on longer than expected. The pending sales are almost eye level with 2018, down less than 1 percent. However, sold listings are not as healthy, hanging back -3 percent from 2018. The average days on market were up 2.7 percent right along with the average sales price jumping 3.3 percent from last year. Single-family home prices are gaining with a 2.9 percent growth to figure the average home sale at $471.887. Townhouse/condo sale prices have fetched an average of $324,017, a slight bump of 1.8 percent. The percent of list price received has stayed strong with 99.5 percent for single family and 99.7 percent for townhouse/condos which seem to be capitalizing on this market as evidenced by the drop in average days on market. Townhouse/condos are moving more quickly than before with a 7.2 percent decrease, yet single-family homes are staying on the market longer with a 9.7 percent increase in days on market. The average is 68 for single family and 103 for townhouse/condos.
"Larimer County inventory is showing the same hardships with single-family down nearly 25 percent and townhouse/condos down 18 percent year to date. Sold listings for both single-family and townhouse/condos are suffering as well with a 26.8 percent and 25.1 percent dip, respectively. The average sales prices continue to gain in both categories with a 3.5 percent increase for single family and 1.7 percent increase for townhouse/condos. Days on market until sale decreased from 69 to 67 in single-family homes and townhouse/condos are going like hotcakes with a 8.3 percent decrease, year to date. The average sales price in Larimer County increased 3.5 percent for single-family homes to $466,745. Townhouse/condos grew 1.7 percent as well to an average price of $314,595," said Estes Park-area REALTOR® Abbey Pontius.
FORT COLLINS
The real estate market in northern Colorado is about as predictable as afternoon Spring thunderstorms. Single- family median prices rose again, while the median price for townhomes fell slightly. Although the number of sales remained virtually unchanged, we do see the homes staying on the market slightly longer.
With the recent downturn in interest rates, pent-up demand continues to fuel the market as we barrel towards the summer season," said Fort Collins-area REALTOR® Bob Sutton.
GUNNISON/CRESTED BUTTE
"The story for the Crested Butte and Gunnison area real estate market is simply inventory, or lack thereof.  For the first time that I can remember, we have more single-family homes on the market than condo/townhomes. Given the resort nature of our market, we have a lot of condos and generally there is a certain percentage of these on the market, but people seem to be holding on to those properties for now. The statistics show that listings of single-family homes are up over last year, but they do not say that the price point of those homes is significantly higher than it was in 2018. So far, 2019 has seen a lot of land sales and not as many residential property sales. With some more homes coming on the market, we are hoping residential sales will pick up.
"There is still a lot of snow in the higher terrain and that will delay the opening of many of our popular hiking and biking trails as well as our backcountry roads. Visitors are starting to arrive, but listings have also been delayed due to the long winter. The weather, plus some financial instability at the national and international level, is certainly contributing to our slower market. However, late May and early June have been busier than the first four months of 2019 so hopefully that is sign of good things to come," said Gunnison/Crested Butte-area REALTOR® Molly Eldridge.
PAGOSA SPRINGS
"With winter finally leaving Pagosa Springs it was no surprise that May 2019 showed a nearly 19 percent increase in listings over the previous year. The sale of homes, including condos and manufactured, under $400,000 comprised almost 70 percent of 2019 purchases and represents the historical Pagosa Springs buyer. May also delivered the strongest inventory growth in homes priced in the $300s and $400s and certainly contributes to the year-to-date average sales price of $371,973 (up 1.6 percent). New construction is also active in this price point and pushing away first home and local buyers. Historically Pagosa has catered to the second home buyers, and this year is no exception. Home sales above the $500,000 mark are off to a slow start and provide an abundant inventory for buyers. Land sales increased significantly in May with the snow melt and low inventory of homes priced below $300,000.
"In South Fork, homes sales shadowed Pagosa with the spring bringing sales and inventory. Popular home sales under $300,000 roared to almost 89 percent of 2019 sales. Home inventory is strong above $500,000 with a 2 to 3-year supply of homes. With more than 309 land parcels on the Rio Grande County market there is a 7-year inventory of parcels allowing a prime selection for buyers," said Pagosa Springs-area REALTOR® Wen Saunders.
PUEBLO
"The Pueblo Market is showing signs of change for the better. May's new listings were down only 3 percent month-to-month, and down 1.5 percent year-to-date. Pending sales were strong in May, up 15.5 percent, and only down 2 percent year-to-date. Sold listings in May were down 12.3 percent and -10.7 percent year-to-date. Our average price of $205,000 is up 13.9 percent from April to May, and 8.7 percent year-to-date. Sales to list price was up to 99.2 percent for May continuing to reflect the low market inventory. Days on market was down to 68 days, as it remains a seller's market and the challenges continue for buyers. New home construction is good but simply can't meet the demand," said Pueblo-area REALTOR® David Anderson.
ROYAL GORGE AREA – CUSTER AND FREMONT COUNTIES
"New listings in the Royal Gorge area were up 9 percent compared to the prior year while sold properties were down slightly (-5 percent) year-over-year. We expect to see our annual sales even out in the coming months as pending sales are currently showing an increase over last year's pending sales by approximately 9 percent. We are continuing to see a positive appreciation of property values. The median sold property is up 13.5 percent year-over-year and the average sold value has increased a little over 2 percent.
"School is out for the summer and buyers and sellers are beginning to make their summer moves. We have just stepped into the first month of our prime selling season and we will see new listings and sales increase steadily for the next three months," said Royal Gorge-area REALTOR® David Madone.
VAIL
"May was an interesting month for our market with record snowfall for the month which may have inhibited real estate activity a bit. Overall sales were flat but there was a swing in the single-family/duplex market down by the same percentage that the condo/townhome market was positive. Year-to-date total product transactions are minus 4 percent with condo/townhomes positive slightly and single-family/duplex down 15 percent. Pricing remains volatile by price niche with increases in lower niches and flat to down in the upper spectrum.
"Overall market performance year-to-date is a negative 6.5 percent in dollars with the $5 million-plus pricing niche down 40 percent in units and 35 percent in dollars. This price niche accounts for 118 percent of the total market decline in dollars thus, 10 less transactions generated the entire dollar decrease year to date. When 3 percent of the transactions equal 24 percent of the dollars, it can generate huge swings in performance which don't adequately evaluate the overall market.
"Inventory is still the single largest factor in sales performance. There are significant variances of inventory by price niche with the opening price points extremely low and a 5.5-month supply. More inventory in the critical price points and we would most likely be registering modest increases in transactions and dollars year to date," said Vail-area REALTOR® Mike Budd.
TELLURIDE
"May sales in the Telluride market were off 50 percent in dollar volume and 31 percent in total number of sales. For the first time I can ever remember, there were no home sales in the Town of Telluride or in the Mountain Village in a month, hence the huge drop in dollar amount of sales. Every broker I know here thinks that this summer will be a good-to-great selling season with Telluride's increasing popularity and that may be true. However, part of me thinks that with all the political turmoil happening in the U.S. and threats of tariffs that the wealthy may be getting a little cautious. As I said before, the resort markets are less about interest rates but more about economic stability nationally. My guess is that summer will be good, but with a hint of cautiousness in the background. One month does not predict the summer, yet," said Telluride-area REALTOR® George Harvey.
New Listings – Denver Metro area (Adams, Arapahoe, Boulder, Broomfield, Denver, Douglas and Jefferson counties)

New Listings – Statewide

Median Sales Price – Denver Metro area (Adams, Arapahoe, Boulder, Broomfield, Denver, Douglas and Jefferson counties)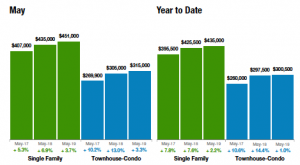 Median Sales Price – Statewide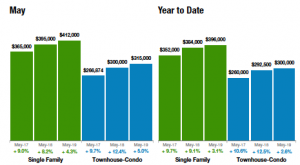 Average Days-on-Market – Denver Metro area (Adams, Arapahoe, Boulder, Broomfield, Denver, Douglas and Jefferson counties)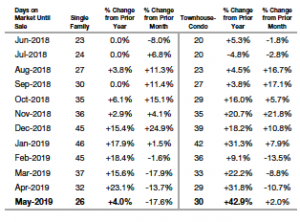 Average Days-on-Market – Statewide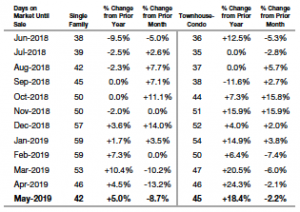 Housing Affordability Index – Denver Metro area (Adams, Arapahoe, Boulder, Broomfield, Denver, Douglas and Jefferson counties)

Housing Affordability Index – Statewide

The Colorado Association of REALTORS® Monthly Market Statistical Reports are prepared by Showing Time, a leading showing software and market stats service provider to the residential real estate industry and are based upon data provided by Multiple Listing Services (MLS) in Colorado.  The May 2019 reports represent all MLS-listed residential real estate transactions in the state.  The metrics do not include "For Sale by Owner" transactions or all new construction.
CAR's Housing Affordability Index, a measure of how affordable a region's housing is to its consumers, is based on interest rates, median sales prices and median income by county.
The complete reports cited in this press release, as well as county reports are available online at: https://coloradorealtors.com/market-trends/
###
CAR/SHOWING TIME RESEARCH METHODOLOGY
The Colorado Association of REALTORS® (CAR) Monthly Market Statistical Reports are prepared by Showing Time, a Minneapolis-based real estate technology company, and are based on data provided by Multiple Listing Services (MLS) in Colorado.  These reports represent all MLS-listed residential real estate transactions in the state.  The metrics do not include "For Sale by Owner" transactions or all new construction.  Showing Time uses its extensive resources and experience to scrub and validate the data before producing these reports.
The benefits of using MLS data (rather than Assessor Data or other sources) are:
Accuracy and Timeliness – MLS data are managed and monitored carefully.
Richness – MLS data can be segmented
Comprehensiveness – No sampling is involved; all transactions are included.
Oversight and Governance – MLS providers are accountable for the integrity of their systems.
Trends and changes are reliable due to the large number of records used in each report.
Late entries and status changes are accounted for as the historic record is updated each quarter.
The Colorado Association of REALTORS® is the state's largest real estate trade association representing more than 26,500 members statewide. The association supports private property rights, equal housing opportunities and is the "Voice of Real Estate" in Colorado.  For more information, visit https://coloradorealtors.com.