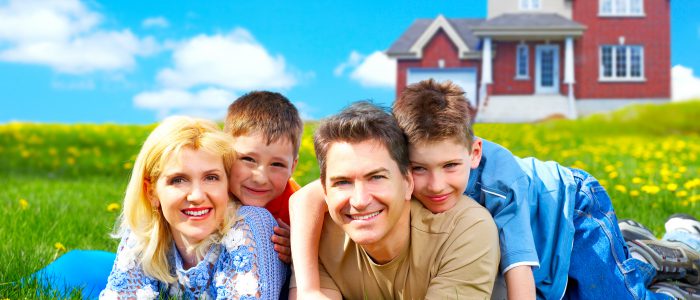 June Brings Inventory and Price Relief to Colorado's Housing Market
Following record-setting May, opportunities expand for buyers as appreciation cools and inventory improves
ENGLEWOOD, CO. – July 11, 2019 – After reaching record highs for median pricing and new listings across the Denver metro region and state housing markets in May, a slight cooling in June – similar to what has happened in June the past two years – helped create a few more opportunities for buyers and pushed sellers to price properties competitively, according to the latest monthly market data from the Colorado Association of REALTORS®.
New listings for homes in both the seven county Denver-metro area and statewide fell off in June but remain higher than a year ago. Statewide, new listings dipped 6.7 percent from May to June 2019 but remain up 1.7 percent from this time last year. The number of new condo/townhome listings statewide fell 6.4 percent between May and June however, they are up 5 percent year-over-year. Looking at the metro Denver region, new listings for single-family homes fell 11.2 percent, but are up 3.8 percent over this time last year. In the condo/townhome market, new listings dipped 8.8 percent but were up 7.6 percent year-over-year.
While active inventory for single-family homes across the state remained relatively flat from May to June, the condo/townhome inventory in the seven-county Denver metro area is up 19 percent from a year ago and the statewide market is up more than 7 percent in active inventory from June 2018.
Also, on the heels of May's record-high median home pricing, June's numbers ranged from flat in the Denver metro region's single-family market ($450,000) to a 1.6 percent dip in the condo/townhome market ($310,000). Statewide, median pricing for single-family homes slipped just under 1 percent to $407,000 and were also down 1.6 percent for condos/townhomes sitting at $310,000 as well.
Overall, CAR's Housing Affordability Index – a measure of how affordable a region's housing is to its consumers based on interest rates, median sales price, and median income by county – is slightly improved in comparison to June 2018.
Taking a look at some of the state's local market conditions, Colorado Association of REALTORS® market trends spokespersons provided the following assessments:
AURORA/CENTENNIAL
"Once again, the June numbers, like May 2019, tell diverse stories based on zip code. Overall, Aurora saw very little change in the number of homes available and median price from May to June 2019. The same is true with inventory and pricing numbers in Aurora from June 2018. Year-over-year the numbers look very similar. The median price is up about 1 percent. Inventory is up about 1 percent from June 2018. The median home price in Aurora remains at $385,000. In most areas the market is pretty stable. A couple of standout zip codes; In 80016 inventory is up about 11percent and the median sales price of $606,750 is an increase of approximately 11 percent over June 2018. 80013 is seeing an inventory increase from 2018 and approximately 4.2 percent pricing increase with the median price at $375,000, still an affordable option for buyers.
Centennial has seen a 7.6 percent increase in inventory and 7.8 percent increase in the median price from June 20018 to June 2019. The median home price in Centennial is $504,500 for single family residential and $386,000 for a townhome/condo.
Buyers will still experience multiple offers with well-maintained properties in the $250,000 to $450,000 price range. Homes that are more mediocre will experience longer days on the market and not the multiple offer frenzy of more well-kept properties. Interest rates are lower than a year ago providing a great window of opportunity for a home purchase," said Aurora-area REALTOR® Sunny Banka.
BOULDER/BROOMFIELD
"In Boulder county, it appears the days of the seller's market are over. Buyers rejoice with 9.4 percent new listings on the market and with a median sales price down 1.6 percent since the beginning of the year, prices seem reasonable and the bidding war days seem like a distant memory. Homes that are priced well and staged beautifully are still enjoying just 46 days on average on the market and a 99 percent sales-price to list-price ratio. Homes that don't fit into that category are finding the summer months to be slow and frustrating. Even with their more affordable price points, condos are feeling the heat with a decline in their median price of 3.7 percent year-to-date and an increase of days of the market to 57 days. A buyer's market seems right around the corner.
In Broomfield County, sales are moving briskly with 21 percent more new listings and 18 percent of them quickly selling under 32 days. In spite of the active market, median home prices still languish with just a measly 1 percent increase since the beginning of the year. It appears the days of the seller's market are over here as well. Condos and townhomes have a tighter inventory with new listings down since the beginning of the year and with 23 average days on the market, they are enjoying a modest median price appreciation of 5.2 percent since the beginning of the year. The tide is starting to turn," said Boulder-area REALTOR® Kelly Moye.
BRIGHTON
"Real estate along the I-76 corridor has continued to increase just as the summer heat continues to rise. Buyers continue to shop in the affordable Brighton area and the number of sold properties in the month of June was up from a year prior. The median sales price rose to $393,000 for single-family homes. Adams County has seen its median sales price rise 3 percent compared to last June, while Weld County sits up 4.1 percent year-over-year. With growth and affordability in the Brighton area, the inventory of active listings is down 23.6 percent from this time last year, yet the number of sold listings is up 37.3 percent.
COLORADO SPRINGS/PIKES PEAK AREA
"June was another good month for the Colorado Springs area housing market for single-family/patio homes. Even with a 5 percent drop in monthly sales and only modest increases in the median and average sales prices, we registered the highest year-to-date sales volume and the second highest monthly sales volume compared to any month of June on record. The average days on market were 24 days, with the sales price to list price ratio at 100.1 percent. Our average sales price was $372,792, the median sales price was $331,000, and a 1.3-month supply of inventory. Since buyers generally purchase properties offering competitive values, 38 percent of El Paso and Teller counties active listings in the Pikes Peak MLS had price reductions.
"Last month, 85.2 percent of the single-family/patio homes sold were priced under $500,000, while 12.7 percent were between $500,000 and $800,000, and 2.1 percent were priced over $800,000. Year-over-year, there was a 22 percent drop in the sale of single-family/patio homes priced under $300,000, primarily due to the inventory shortage, while we had a 16 percent increase in homes priced between $300,000 and $400,000. Prevailing low inventory and affordability challenges due to ever-soaring prices continue to be the most constraining aspect of the Colorado Springs area housing market," said Colorado Springs-area REALTOR® Jay Gupta.
"The Pikes Peak region continues to push home values up month after month. Both townhomes and single- family homes experienced price increases even though average days-on-market pushed higher as well. This push has made much of the area unaffordable to many locals just trying to get into housing. Coupled with a tight rental market and you can understand the frustration in the buyer/tenant pool. And, house prices continue to outpace job income growth. This may be one reason Colorado Springs was listed as one of four Colorado cities most likely to be on the verge of a housing crisis in a recent MSN Money article. Sellers are jumping for joy while selling their homes yet, they are frowning if staying in the local market and trying to find housing themselves.
"Nationally, you are hearing pressure from the White House to have the Federal Reserve bring rates down which should be the canary in the coalmine. If the national economy was truly doing so well, rate drops would not be needed. So, look for more updates on that as we progress into next month. We are very likely to see rate drops by the end of August.
"Worldwide the central banks are tackling slowing economies. Trade wars with numerous countries continue to be on everyone's radar and you can add Duetsche Bank running into recent problems as well. Whether or not any of the bad news that is out there affects the local market remains to be seen. At this time, locally, we remain robust on the housing front," said Colorado Springs-area REALTOR® Patrick Muldoon.
DENVER
"In both May and June of this year, real estate activity in Denver followed a nearly identical path to those same months in 2018. The number of new listings to the market in May was up 17 percent from the previous month – then retreated 21 percent in June. Both years show a trend in Denver where peak activity and sales highs occur in May with a steady – though not alarming – decent immediately following.
"While Denver's single-family home price trends 22.6 percent higher than the metro area as a whole, that number has shown a nominal decrease since last year's 24.3 percent. The roughly 10 percent change suggests that the trends we have already seen in recent months of cooling appreciation metro-wide could now be inching closer to the city core," said Denver-area REALTOR® Matthew Leprino.
DURANGO
"Summer has finally arrived in Durango. Better late than never. New listings in June were down about 4 percent and sold listings dipped 13 percent. I would point the finger for these numbers at the unusually long winter Durango experienced this year. We are just now seeing an increase in showing activity and new listings hitting the market. While prices continue to increase (+5 percent) over last year, we are also beginning to see buyer fatigue and an emerging trend of buyers that are choosing to stay in their current homes longer and renovate rather than making a move up or down.
"Townhome inventory increased more than 11 percent in June thanks to a couple new projects completing their first phases. Pricing of this new product is responsible for the increase in the median sales price by more than 8 percent for the overall market.
"July is off to a good start with additional properties hitting the market and buyer activity over the past week has improved as well. The general consensus among real estate brokers is the summer selling season will extend well into the fall months, provided old man winter doesn't make an early return from his summer vacation," said Durango-area REALTOR® Jarrod Nixon.
ESTES PARK
"Statistics are showing a market shift for 2019 from single-family homes to townhouse/condos in the Estes Valley and Larimer County. The housing affordability index in the Estes Valley is indicating a drop of 13.4 percent for single-family homes and are down nearly 15 percent in townhouse/condos. Pricing of townhouse/condos is filling the gap and appealing to the entry level and workforce buyers. Larimer County had a nice 2 percent bump in new listings, overall inventory is up, bringing the month's supply up alongside at 4 percent for single-family residences over June 2018.
"Townhouse/condos are being listed at a rapid pace with a healthy increase in new listings of 8.1 percent. Inventory of townhouse/condos is 7.8 percent higher compared to June of last year. Year-to-date, townhouse/condos have had exceptional growth in overall new listings at 10.5 percent and a median sales price increase of 3.4 percent to $304,900. In Estes Park, townhouse/condos are also dominating the market with impressive growth, while single-family residences are struggling to keep up. Townhouse/condos have 18.8 percent more new listings, 11.1 percent more closed sales and the average sales price has climbed 11.4 percent year-to-date. Single-family homes are falling behind with new listings down almost 20 percent, closed sales down just over 21 percent and we even saw a drop in average sales price, down 5.9 percent to $581,346. As the peak of season gets underway in the high country, only time will tell if single-family homes will compete with the townhouse/condo sales," said Estes Park-area REALTOR® Abbey Pontius.
FORT COLLINS
"Cool Summer? Yes, it is. Like the weather, June's housing numbers show a shifting pattern in the market. Even with falling interest rates, total sales are off from last year's number by more than 15 percent. Median prices have continued to climb thanks mostly to an increase in sales of houses over $500,000. The number of single-family homes sold in northern Larimer County between $300,000-$400,000 is off by 21 percent year-over-year, yet inventory numbers in that price range have increased by 15 percent. Homes in the $500,000-$699,000 price range and $700,000-$999,000 price range have seen 9 percent and 14 percent gains in year-over-year total sales, respectively. The entry-level buyer is relegated to continue renting, purchase a condo/townhome, or they're using the increased buying power of lower interest rates and improving wages to purchase a home over $400,000.
The good news is that with increasing inventory levels, buyers actively looking have much more variety to choose from including resale and new construction. Both single-family homes and condo and townhome inventories are climbing. For sellers, this is the time for prudent pricing as we have seen an increase in price reductions for homes that may have been overly optimistic about what a buyer is willing to pay. Homes in good shape and priced conservatively are still seeing multiple offers in certain price points," said Fort Collins-area REALTOR® Chris Hardy.
GLENWOOD SPRINGS
"Across the board, the communities from Carbondale to Battlement Mesa are experiencing a fairly balanced market. Supply and demand in single-family homes seem to be in good balance even with a perceived lack of inventory. In comparing our half year mark to that of 2018, there was a plus .07 percent change in new listings – or 1 home. Pending sales were down 7.4 percent and sold listings were up by another 1 home or 1.1 percent. The median sale price also has balance at $409,500 compared to $410,000 last year. Average sale price is another issue, coming up 5.7 percent above 2018 to settle in at $492,936. Percent of list price received and days on market remain totally unchanged over last year.
"The most significant changes are in the townhome/condo market where new listings, prices, and pending sales are all up, yet sold listings are steady over last year. The median sale price rose 12.5 percent to $323,000 with the average sale price at $368,553 or an 11.8 percent increase over June 2018. Days on market has held steady but our supply has decreased from 4.1 months of inventory to 3.2.
"While it is still a good time to be a seller in the Grand and Roaring Fork river valleys, buyers are becoming pickier, not jumping on the first listing they see, and are preferring to hold out for the best property in their budget," said Glenwood Springs-area REALTOR® Erin Bassett.
GOLDEN/JEFFERSON COUNTY
"The Jefferson County market is changing. While still a seller's market, it is not as hot as it has been in the past few years. We've seen a 2.5 percent increase in new single-family listings and a 5.8 percent increase for townhomes/condos. Despite increases in inventory, the median sales price for single-family homes still increased in June 2019 to $485,000, up 4.3 percent from this time last year. Average days on market also increased to 20 days compared to 19 days in June 2018. Seller's will need to be aware of all of these factors when they put their home on the market.
"For townhomes/condos the median sales price in June 2019 increased to $303,250 from $291,500 in June 2018. There is also more inventory on the market with an uptick of 16.8 percent from this time last year. And, average days on market is up by 38.5 percent for townhouses/condos.
"In Golden, homes are sitting on the market that would have sold within days of hitting the market several months ago. Most homes are selling for asking price or a bit lower, with few selling for more than the asking price. There are several newly-built townhouse/condos that are holding their asking price and pushing those days on the market up because they are not selling quickly. Buyers have a lot more options these days and they are not just jumping to buy anything that hits the market," said Golden-area REALTOR® Barb Ecker.
PUEBLO
"Pueblo's June numbers show a slowdown in new listings (-12.2 percent) with solds down 14 percent compared to 2018. We look a little better year-to-date, down 3.1 percent for new listings and solds down 8.8 percent. Pending sales revealed an increase of 13.3 percent from last June and are down just 1 percent year-to-date. The median price is up 13.6 percent from June 2018 and is also up just 1 percent year-to-date. The percent of list price received is still strong at 98.9 percent with an average months' supply of inventory sitting at 1.9 months keeping us in a seller's market with multiple offers on the continued low inventory. Looking at new home construction, we continue to show strength with most of these properties selling before the home is completed," said Pueblo-area REALTOR® David Anderson.
ROYAL GORGE AREA – CUSTER AND FREMONT COUNTIES
"June's new listings in Custer County came in higher than any other month for the past year, which indicates that summer is finally upon us. Sellers are looking to take advantage of warm weather and the many people that visit this high mountain community during the warmer months of the year. While residential listings are up 23.5 percent and sales are up 20 percent for the month, year-over-year sales were down 18.5 percent. This is likely just an indicator of a slightly slow start to the summer selling season and sales will most likely catch up in the next couple of months. The median residential home price in Custer County is currently $234,500.

"Looking at Fremont County, flow levels in the Arkansas River have been pushing towards all-time highs this past month and our activity has followed suit. Sold residential units have shown the highest increase month-over-month since April 2018. The median priced home value of $236,250 is the result of a steady, month-over-month increase since May 2018 and has been in the positive column year-over-year for more than 17 months. June's new listings were down 12 percent compared to May, but sales were up almost 29 percent for the same time. We're still in need of more inventory for prospective buyers, but we've been singing that song for many months now," said Royal Gorge-area REALTOR® David Madone.
VAIL
"Summer has finally arrived and it's the time when inventory and activity begin to rise for the season. New listings are up 16.8 percent for single-family/duplex units and townhome/condo inventory is positive 5.5 percent versus June a year ago. Couple the inventory along with pending sales at plus 61 percent for single- family/duplex homes and a minimal 3 percent decline in townhome/condos, and we look optimistic to begin the season. Closed sales year-to-date is negative 14.6 percent on single-family/duplex and positive 3.8 percent on townhome/condo. This back and forth trend has persisted since the beginning of the year. The catalyst to the fluctuation has been inventory in key price points, which may still be in question until we can see the magnitude of new inventory hitting the market.
"The days on market and month's supply vacillate very closely to the differing price points. We can see the fluctuations in activity when only two of the key price niches are positive in unit and dollar sales year-to-date. The overall market is negative 7 percent in units and 8.34 percent in dollars year-to-date. However, we continue with the top niche down 40 percent in units and 37 percent in dollars. The magnitude of this segment is a negative 12 transactions but a dollar value of $93 million. The overall market is down 43 transactions with the aforementioned segment representing 28 percent of the decline. The total market is negative $68 million with this segment showing a downward trend of $93 million which means the market would be positive without the continued weakness in the segment," said Vail-area REALTOR® Mike Budd.
TELLURIDE
"The Telluride market is down 14 percent in dollar volume and -5 percent in the number of sales for the first half of 2019. My prediction for this year was 5-10 percent down in both categories for all of 2019. Hence, the more expensive real estate needs to pick up and my guess is that it will. Being a ski area resort, many people don't know that the summer sales season is actually better than winter due to the ability of buyers to have easier access to land sales and ranches in the summer. The price paid per square foot is higher in the town of Telluride than the Mountain Village and the advantage of walkability in the Town of Telluride is very appealing to many buyers, as was noted in the recent U.S. News and World Report where we were voted the best small town in America to visit," said Telluride-area REALTOR® George Harvey.
New Listings – Denver Metro area (Adams, Arapahoe, Boulder, Broomfield, Denver, Douglas and Jefferson counties)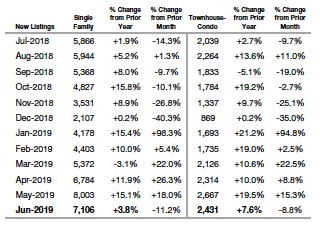 New Listings – Statewide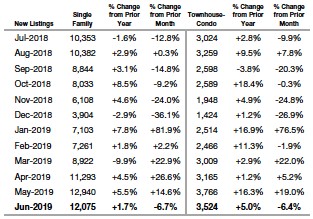 Median Sales Price – Denver Metro area (Adams, Arapahoe, Boulder, Broomfield, Denver, Douglas and Jefferson counties)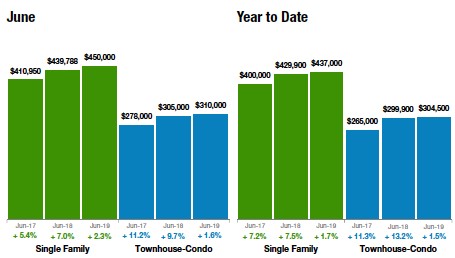 Median Sales Price – Statewide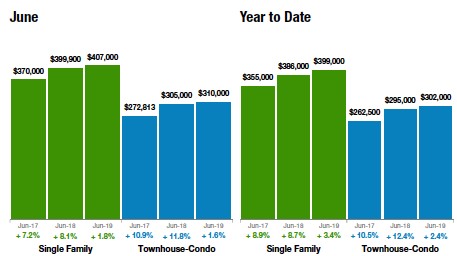 Inventory of Active Listings – Denver Metro area (Adams, Arapahoe, Boulder, Broomfield, Denver, Douglas and Jefferson counties)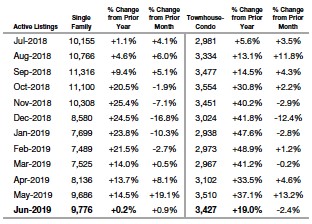 Inventory of Active Listings – Statewide
The Colorado Association of REALTORS® Monthly Market Statistical Reports are prepared by Showing Time, a leading showing software and market stats service provider to the residential real estate industry and are based upon data provided by Multiple Listing Services (MLS) in Colorado. The June 2019 reports represent all MLS-listed residential real estate transactions in the state. The metrics do not include "For Sale by Owner" transactions or all new construction.
CAR's Housing Affordability Index, a measure of how affordable a region's housing is to its consumers, is based on interest rates, median sales prices and median income by county.
The complete reports cited in this press release, as well as county reports are available online at: https://coloradorealtors.com/market-trends/
###
CAR/SHOWING TIME RESEARCH METHODOLOGY
The Colorado Association of REALTORS® (CAR) Monthly Market Statistical Reports are prepared by Showing Time, a Minneapolis-based real estate technology company, and are based on data provided by Multiple Listing Services (MLS) in Colorado. These reports represent all MLS-listed residential real estate transactions in the state. The metrics do not include "For Sale by Owner" transactions or all new construction. Showing Time uses its extensive resources and experience to scrub and validate the data before producing these reports.
The benefits of using MLS data (rather than Assessor Data or other sources) are:
Accuracy and Timeliness – MLS data are managed and monitored carefully.
Richness – MLS data can be segmented
Comprehensiveness – No sampling is involved; all transactions are included.
Oversight and Governance – MLS providers are accountable for the integrity of their systems.
Trends and changes are reliable due to the large number of records used in each report.
Late entries and status changes are accounted for as the historic record is updated each quarter.
The Colorado Association of REALTORS® is the state's largest real estate trade association representing more than 26,500 members statewide. The association supports private property rights, equal housing opportunities and is the "Voice of Real Estate" in Colorado. For more information, visit https://coloradorealtors.com.