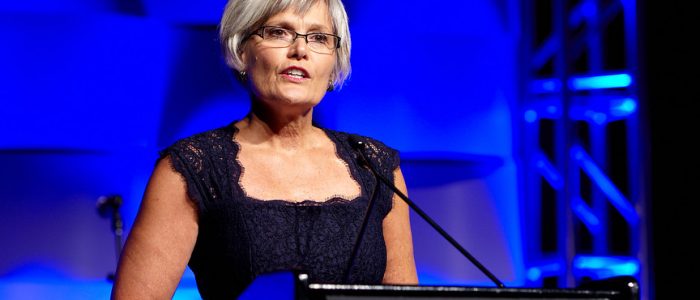 CAR Past President Jolon Ruch Passes Away
The Colorado Association of REALTORS® (CAR) extends its deepest sympathies to the family and friends of CAR Past President Jolon Ruch, who passed away on Thursday, October 28th after a brave and hard-fought 18-month battle against cancer.
Jolon is remembered as a tremendous organizational leader, taking on the tough task of ushering in a new governance model for her state association. Jolon cared deeply about the real estate industry, not only for her fellow associates but the public, and that is why she spent much of her time volunteering with the local, state, and national associations.
"CAR will forever be thankful to Jolon for her selflessness and leadership. CAR evolved as an Association because of it," said CAR CEO Tyrone Adams.
CAR staff and leadership remember Jolon for her kindness, gentle spirit, enduring smile, and positive attitude. CAR Presidents and Chairs had many things to say about Jolon:
"I had the honor of serving with Jolon over the years at CAR. I always admired her energy, passion, and willingness to share her knowledge. She will always be remembered as a tireless advocate for REALTORS® as well as a dedicated volunteer. She will be missed by so many of us," said 2021 CAR Chair Robert Walkowicz.
"Jolon was an amazing REALTOR®, volunteer, and friend. She made a significant difference in the real estate industry in Colorado, both through her professional career and as a past chair of CAR. Personally, she was a dear friend to me and someone who brightened the room whenever she walked in with her warm heart, humor, and compassion. I will miss her," said 2013 CAR President Keith Kanemoto.
"Love to all who have been by her side through her courageous battle. Jolon fiercely fought for what she thought was right and had more positive effect on the world and real estate than can be measured. I will miss you deeply friend. Thank you for always being so good to me," said 2019 CAR Chair Justin Knoll.
"Jolon was a mentor to me. Gracious, kind, funny but had a backbone of steel. I'm sending all of my love to her family, she will be dearly missed," said 2020 CAR Chair Janene Johnson.
Jolon was President of the Colorado Association of REALTORS® in 2014. A longtime resident of Broomfield, Ruch had been involved in the real estate business for more than 32 years and licensed since 1996.
A former president of the North Metro Denver REALTOR Association (2006), Ruch had been the recipient of the Association's REALTOR® of the Year Award, and Rookie of the Year Award. In addition, she served in numerous volunteer leadership positions with the North Metro Denver, Colorado and National Associations of REALTORS®. For CAR, Jolon also served as Law and Policy Vice President, Metro District Vice President, as a CAR Director and joined many committees including Risk Management, Education, Professional Development, and Research.
Jolon will be deeply missed by the many lives she touched.
In everything, do unto others what you would have them do unto you (Matt 7:12).
The celebration of her life will be held at 1:00 p.m. on Wednesday, November 3rd, 2021 at Risen Savior Lutheran Church in Broomfield with Pastor Philip Cameron officiating. Celebration is open to the public and will be streamed online as well.
Below is the link to share for the livestream.
https://www.facebook.com/RisenSaviorLutheranChurch/