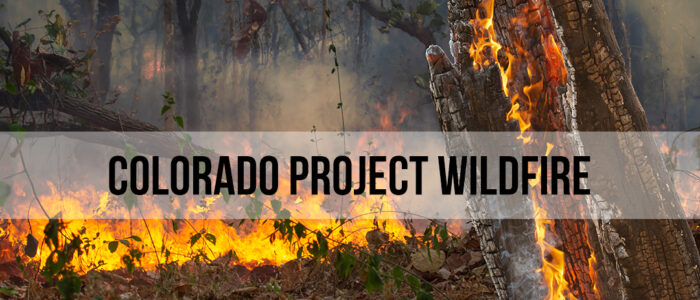 Colorado Project Wildfire – 2022 Recap
Interest and engagement in Colorado Project Wildfire initiatives continues to rise as the growing number of wildfires and severity of those fires captures the attention of our primary target audiences – including our members throughout the mountain communities, as well as the front range following the catastrophic Marshall Fire at the end of 2021.
As a result, our program participation was at an all-time high from members in the past year, highlighted by the growth of several existing programs in local communities ranging from (chipping and slash removal efforts to planning for the improvement of fire escape routes in select communities and overall community protection plans). In addition, we engaged with several new associations/members to begin and/or expand partnerships and program initiatives in new communities.
This past year, we had a record number of our local associations apply for and receive CPW grants from CAR to implement wildfire education and mitigation programs in their local communities. Those grant recipients tapped funds to support programs in:
Aspen
Boulder
Castle Pines
Castle Rock
Colorado Springs
Douglas County
Durango
Edwards
Estes Park
Evergreen
Grand Junction
Johnstown
Kiowa
Littleton
Vail
Our CPW Task Force meetings and leadership planning efforts were highlighted by presentations from REALTOR· members who are leading program efforts in their local communities, as well as industry experts with specific expertise in insurance, mitigation practices and access to local, state and federal resources. Those speakers included representatives from:
Colorado State Forest Service
Rocky Mountain Insurance Association
Wildfire Preparedness Services
Colorado Department of Natural Resources
Boulder Longmont Association
Mountain Metro Association
Other highlights include:
Completed distribution of 8,500 Colorado Project Wildfire brochures to local associations and partners organizations for distribution to Colorado residents.
Engaged with our members, the CAR Foundation, NAR and the REALTOR· Relief Foundation to provide financial housing resources to several hundred Marshall Fire victims.
As a result of our long-term relationship building, our partnerships with the Colorado State Forest Service, Insurance Association and countless community leaders and wildfire experts across the state continue to improve the public's awareness of wildfire risks and provide access to information, tools and local resources that can help them protect their homes and their communities.
A prime example of that relationship includes CAR being asked by State Forester Matt McCombs to serve on the Colorado State Forest Service Working Group for the Wildfire Mitigation Education Outreach program that will launch in 2023 and continue through 2024.
CAR/CPW has been asked to be a panel participant at the 2023 annual meeting of the National Fire Protection to talk about the importance of public-private partnership efforts in educating the public about wildfires.
We continue work to update our Member Tool Kit materials to incorporate the latest content and learnings from our stakeholders/partners (Colorado State Forest Service, National Fire Protection Association, Rocky Mountain Insurance Association).
Held a successful community program in March about Wildfire Mitigation and Planning. A "best practices" article was published in the Colorado REALTOR® magazine for holding a similar event, to encourage REALTORS® and brokerage managers to replicate the program in their own areas.