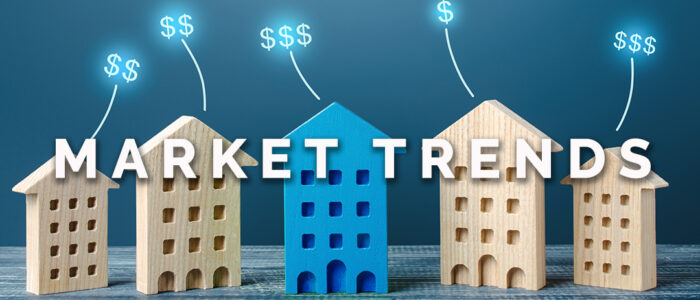 Housing markets mellow with weakening prices and softening demand
ENGLEWOOD, CO – Temperatures ran hotter in July, but the housing market did not follow suit thanks to the continuation of elevated interest rates and a lighter inventory of active listings as more and more would-be sellers choose to sit on their low interest rate mortgages rather than move, according to the latest Market Trends Housing Report and analysis from the Colorado Association of REALTORS® (CAR).
Inventory of active listings for single-family homes in the seven county Denver metro area fell 3.2% from June to July and are down just shy of 28% from a year ago. Townhome/condos were off 5.7% from June to July and are down 19% from July 2022. Statewide, the story is similar with active listings down 1% from June to July but down nearly 19% from July 2022. Active listings for townhomes/condos fell 3.2% over the past month and are down 9.4% from a year ago.
New listings for all property types were down 24.3% in the Denver-metro area, and more than 21% statewide compared to July 2022 and closings were down 17.4% and 15.7%, respectively.
With plenty of shoppers still in the market, higher rate loans continue to diminish affordability and push potential buyers to be much more selective with their offers. At the same time, sellers are facing concessions not seen in a few years. The combination of factors helped push the percent-of-list-price received down again in July to under 100% for all property types in the seven-county Denver area (99.7%) and statewide (99.4%), an unusual result in what is typically a hot selling summer month.
Also reflecting the slowdown of the market frenzy seen over the past few years, average days on market for all property types sits at 26 in the seven-county Denver area, up 73% from a year ago, while statewide, the 37 average days on market reflects a 42.3% increase over July 2022.
The combination of interest rates, inventory, and affordability factors has had its impact on median pricing as well. In the seven-county Denver area, median pricing compared to the prior year fell for the seventh straight month but still hovers near those peaks seen in the summer of 2022. A single-family home in Denver metro sits at $625,000 in July. Statewide, the year-over-year monthly decline hit its sixth straight month with single-family homes ticking down to $578,250. For the first time since February, townhome/condo median pricing rose 3.6% in the Denver metro area to $427,000 and 3.7% statewide to $425,000.
Seven County Denver area Market Overview: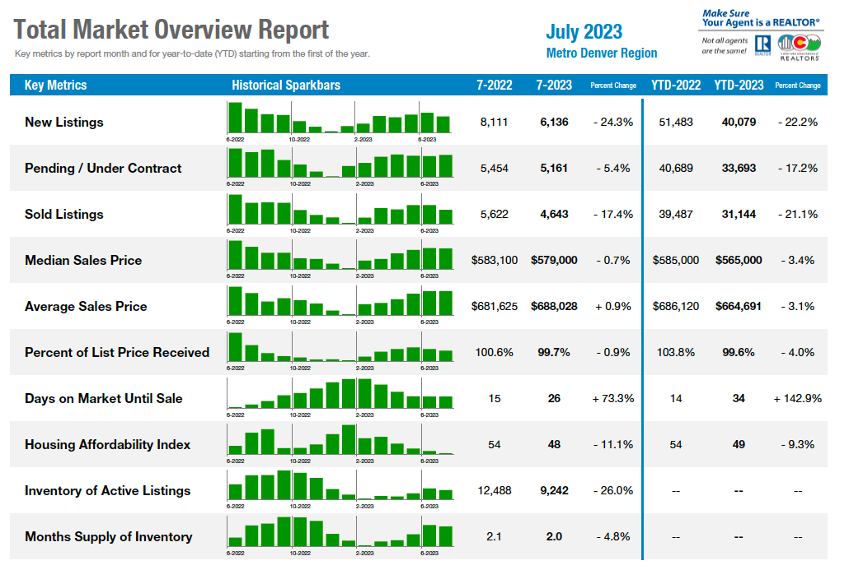 Statewide Market Overview
Taking a more in-depth look at some of the state's local market data and conditions, the Colorado Association of REALTORS® Market Trends spokespersons provided the following assessments:
AURORA
"Just like they say with the weather, wait a day and things will change – so goes the Aurora real estate inventory. Active listings are still down 31% from July 2022. Current single family, residential listings in Aurora stand at 857 as of Aug. 8, 2023, with a median price of $545,000, down 1.8% from July 2022. Sold inventory is up 2.4% with 527 closed properties. Inventory is down anywhere from 51% in 80010, with a median price of $430,000, to a 39% decrease in 80015 and a median price of $600,000. Looking to 80111 in Englewood/Greenwood Village, we have 22 active properties, down 57% from a year ago, and a median price of $995,000. Average days on market ranges from 12 to 16 days, depending on location.
"Bottom line, homes are still selling and inventory is still low as sellers are reluctant to give up their low interest mortgages. Pricing is down slightly due to the interest rate increases and days on market is up by just a few days. In general, the market feels a little more balanced. Sellers need to be realistic, and buyers have a few more opportunities, although, we still have a housing shortage. If rates come down, even a small amount, we could see a flurry in the market," said Aurora-area REALTOR® Sunny Banka.
BOULDER/BROOMFIELD
"After a significant slowing in the market due to unprecedented interest rate hikes throughout the year, the real estate market in Boulder and Broomfield counties seems to have leveled out. Last month, our median price was down 6% from January. The ship appears to have righted itself a bit in July with Boulder down 4% and Broomfield up almost 1%. Sellers have finally received the message about the change in the market, have corrected their pricing, and started offering concessions to help attract buyers. Their adjustments have resulted in sales where the average sales price to list price remains at 99% and the price reductions have slowed. Sellers are coming out of the gate at a more realistic list price and when they do, buyers are willing to pay.
"The lack of houses on the market continues to be one of our biggest challenges with sellers holding on tightly to their homes and their rate. With 2.8 months of inventory on the market in Boulder County, the choices are slim, but buyers are taking their time in hopes the rates go down. The days on market in Boulder have doubled from 28 to 50 days as buyers weigh their options.
"Broomfield continues to be one of the only counties showing positive numbers. Prices are up just a bit since January and days on the market remain a quick 31 days on average. The relatively affordable median sales price of $695,000 continues to make Broomfield a popular destination and while inventory is also a challenge here, buyers seem to be gobbling up listings as fast as they hit the market.
"Based on the activity in both counties, it feels like we've hit a stride where our new market has settled in, and buyers and sellers have adapted. Until interest rates change, the inventory will remain low, and some buyers will choose to sit on the sidelines. Once those rates start to make a move, the game will be on," said Boulder/Broomfield-area REALTOR® Kelly Moye.
COLORADO SPRINGS
"This is one of the strangest markets I have seen in a long time, maybe ever. And that is because there is not a one size fits all going on right now. While we are 1.8% off our top median prices, further home value decreases remain resilient. We've also seen a roughly 25% year-over-year decline in sold listings on all property types (2012/2013 levels). Sales are off, prices are down from the highs, active listings are down 17.9%, interest rates remain elevated, and despite all that, sellers continue to be fortunate when you have the right home at the right price. On the flip side, other sellers are not getting the showings or offers and are having to reduce prices or place their home into property management.
"Where is the market headed? Nationally, we have economic news that would make one pause. July brought about Yellow, the third largest freight company, declaring bankruptcy. Americans now have surpassed $1 trillion in credit card debt, a first ever. We did see the Federal Reserve raise interest rates. But then jobs came in strong. The Fed is walking a tight rope trying to battle inflation, equalize jobs, and avoid a crash. We have also seen freight drop from China to the U.S. as consumer demand slows. Not usually a good sign. But, despite all this, housing stands tall in the Pikes Peak region.
"One other caveat I have not seen in a long time is that rents for homes have softened while mortgage payments for those same homes, if purchased, are far higher. A renter can save $500-$1,000 per month compared to the cost to own. We are seeing two strange forces at work right now. Low interest rates for many are keeping them from selling, and low rents (compared to buying) are keeping people from buying. The past has shown us that the market does find balance. My experience is when it does, it is never painless. But for now, sellers who are reasonable with their homes price are still selling, and buyers bear the brunt of the pain with higher interest rates, higher home prices, and higher cost of living. As we move to fall, we will have to see how inventory goes, if interest rates adjust, and how demand holds up," said Colorado Springs-area REALTOR® Patrick Muldoon.
DENVER COUNTY
"Denver continues to perplex and bewilder as July's real estate market numbers roll in. Last month marked the seventh straight month where the median price was lower than the month/year before – a trend generally mirrored by metro and state data. What doesn't mirror it is the parallel drop in demand. With a list-to-sales price ratio now below 100% (houses selling on average below the asking price), a July first since the Colorado Association of REALTORS® started tracking the data, it's notable and rare that you see prices going down and demand not going up – a clear sign of a diminishing demand for what Denver has to offer. At 99.8%, well within a margin of error, we almost always see 100%-plus figures and, in the rare instance of July 2021, 104.4%. These figures point to our continued mellowing of markets as, despite the lower amount of new property hitting the market, 26% fewer than July 2022 and a whopping 40% decline from July 2021, inventory of available homes is up – statistically tying the all- time highs of 2016 and 2019," said Denver-area REALTOR® Matthew Leprino.
DOUGLAS COUNTY
"While July is known for fireworks and festivities, it looks like the real estate market in Douglas County didn't get the memo. The market is slowing down as the end of the summer nears, with new listings decreasing over 22% between June and July. Average days on market for single-family listings remained at 28 days month-over-month. Close prices, however, pressed upwards due to persisting inventory constraints. The median close price for single-family homes in July was $740,000—nearly reaching the all-time highs of the spring 2022 craze. Despite this, I don't expect to see prices climb much higher this year, as buyers are likely to face prolonged affordability challenges while relentlessly positive economic news keeps interest rates elevated.
"From my perspective on the ground, it seems that overpricing continues to be prevalent. From a seller's point of view, it's incredibly difficult to let go of your home for relatively less than you would have gotten at the market's peak last Spring. While low inventory is keeping prices higher, we are seeing a significant increase in buyers' negotiating power, especially when it comes to concessions for rate buy-downs. Surprisingly, there does still seem to be a steady stream of cash buyers lurking in the market.
"There's a fascinating mixture of economic conditions driving the real estate market, and it makes forward-looking commentary especially difficult. With a presidential election year around the corner, an ongoing war in Eastern Europe, and the lingering effects of a pandemic, there are too many variables at play to make an accurate guess on where we go from here. Regardless, if there's one comfortable place to live in such uncomfortable times, market demand says Douglas County is the place to be," said Douglas County-area REALTOR® Cooper Thayer.
DURANGO/LA PLATA COUNTY
"La Plata County continues to attract buyers with its scenic beauty, recreational opportunities, and desirable lifestyle. Buyer demand, economic conditions, and local development influence the market's dynamics. The decrease in buyer demand can be attributed to fewer buyers qualifying for mortgages. The median home price in Durango is $749,500. A buyer with 20% down and good credit will have a monthly mortgage over $5000 and need a monthly income of at least $11,000 to qualify, leaving many buyers on the sidelines until rates begin to lower.
"While July has seen a decline in specific metrics, the market remains relatively active. However, the monthly supply of homes gradually increases only in specific price segments, particularly in the higher-end luxury market. The under-one-million segment remains very active, with little to no inventory available. The median and average sales increase suggests continued interest in the county's real estate. However, fluctuations in inventory and percentage of list price received highlight the importance of monitoring market trends for a comprehensive view of future developments," said Durango-area REALTOR® Jarrod Nixon.
Market highlights from La Plata County July 2023:
New Listings: The number of new listings decreased 5.1% compared to the previous year, totaling 99 new listings in July. Year-to-date, new listings fell 17.8%, indicating potential challenges in inventory replenishment.
Sold Listings: The count of sold listings decreased 12.5% compared to the previous year, with 63 homes sold in July. The year-to-date sold listings are down 24.8%, suggesting a cooling in sales activity.
Median Sales Price: The median sales price showed a significant 12.8% increase, reaching $725,000 in July. Year-to-date, the median sales price grew 5%, hitting $749,500.
Average Sales Price: The average sales price rose 9.2% from the previous July to $996,479. Year-to-date, the average sales price increased 5.5% to $939,077.
Percent of List Price Received: The list price received decreased 1.2% compared to the prior July, with sellers receiving 98.2% of their listing price. Year-to-date, the percentage decreased 3.3% to 97.6%, possibly indicating a shift in buyer bargaining power.
Days on Market Until Sale: Properties spent an average of 66 days on the market before selling, reflecting a 16.5% decrease from the previous July. However, year-to-date, this metric saw a marginal 1.2% decrease.
Inventory of Homes for Sale: The number of homes available decreased 7.7% to 203 properties.
Months Supply of Inventory: The monthly supply of inventory increased 27.3% to 4.2 months, indicating a slight decrease in buyer demand.
FORT COLLINS
"With the dog days of summer upon us, the housing market is cooler than a pitcher of iced lemonade. The total number of homes sold is down 46% from July 2021, and 19.5% lower than last July. Yet the median price of single-family detached homes topped out at $659,300. How does that happen with interest rates over 7% and the total number of listings available up by over 6%?
"It may be this: First time home buyers are on the sidelines waiting for interest rates to come down, leaving the largest cohort of buyers in the $500,000-$699,000 price pocket. These buyers can bring lots of cash to the deal from savings or equity built in their current homes and they can use the stalling of the housing market to negotiate a better price on homes that may have sold for tens of thousands more just 13 months ago.
"If you've got cash, solid employment, and equity in your current home, there's more leverage for this buyer pool than ever before because sellers that need to sell are recalibrating their expectations. Homes aren't selling for inordinately more than they were last year, there's just a higher number of houses selling in this particular price point than in previous years. The increase in median price is an illusion of arithmetic not an indicator of home price appreciation.
"The rolling 12-month gage of houses sold in the $400,000-$499,000 price bracket has plummeted nearly 40%, whereas the same gage of houses sold in the $500,000-$699,000 has only dropped 20%. Since price points over $700,000 have markedly dropped but not as much as in the lowest price point, median price by definition has simply shifted upward but primarily because there are fewer people buying in the lowest price points and fewer homes available to buy in the lowest price points.
"This recent stack of data, showing more balance in the housing sector, is giving buyers plenty to wag their tails about. With 2.5 months supply of homes currently on the market, buyers have the luxury of time and choice. Sellers may be howling about price reductions and nearly 50 days on the market before a sale is completed and therefore must up their game by presenting aggressively priced, nicely updated, and turn-key homes to attract the buyers out there chasing the dream of a home of their own," said Fort Collins-area REALTOR® Chris Hardy.
GLENWOOD SPRINGS
"REALTORS® who were excited to enter what would normally be our hot selling season have been gravely disappointed with this stagnant summer. The month of July saw new listings for single family homes down by 15.1%. Pending and sold followed suit with pending sales down 7.5% and sold properties down 8.2%. The constant in this market is the continued rise in the median sale price for homes which is up 24.6% over 2022, coming in at $828,500.
The one clue of a softening in our local market comes in the increase in days on market, which although slight at 23.5% or 42 days, does indicate that buyers are holding off and waiting for the rates to also soften. We currently have an inventory of 176 active listings or a 3.3 months' supply.
New listings remained down in multi-family by 42.9% but had a little better showing in pending sales which were up by 14.3% or three under contracts. July saw 18 townhomes/condos sold which is a 40% decrease over July of last year. Echoing the single-family sector, the Days on Market increased by 110% or 40 days. There are currently 30 multi-family units for sale, which equals a 1.7-month supply, which is a decrease of 19% over last year," said Glenwood Springs-area REALTOR® Erin Bassett.
GRAND JUNCTION/MESA COUNTY
"Grand Junction and Mesa County continue to have a lot of statistics in the negative. New listings, pendings and solds are all down year-to-date, listings are down 25.4%, pending sales down 15.1% and solds down 21.2%. On the plus side, median price is up to $400,000 and average is up to $460,315 because more properties over $400,000 make up the majority of the current sales. As the most affordable home in this area is under $400,000, it is pretty clear that the first time or moderate income buyer is not in the market right now. We have a total of 552 active residential listings available for sale currently, and only 183 of those are under $400,000. Until we see some relief on interest rates, it is possible the market will continue to follow this trend," said Grand Junction-area REALTOR® Ann Hayes.
JEFFERSON COUNTY – ARVADA/GOLDEN
"Our summer selling season feels like our fall selling season. Buyers are still on the fence and they are waiting for the other shoe — interest rates – to drop. In Jefferson County, July finished with new listings down 28%, solds down 14.4% and a median sales price hovering at an even $700,000. Average days on market increased 58.3% for single-family homes. If a seller wants their home to sell in a reasonable amount of time, they must price their home correctly. Success also depends on where the seller's home is located. Some neighborhoods are still seeing multiple offers and some other nearby neighborhoods are stale.
"For townhome/condos, new listings are down 34.6% along with solds, decreasing 11.9%. The median sale price of $448,410, reflects an uptick from this time last year and the average days on market is up 71.4%. Even with all the lending programs available today, buyers are still weary to take the leap into home ownership or change their current location," said Jefferson County-area REALTOR® Barb Ecker.
PAGOSA SPRINGS
"The sizzling news for Pagosa Springs is not only unusually high summer weather temperatures but also more inventory and higher home prices. At first glance, the month's home supply reflects a more normal, healthier market inventory at 6.8 months. Prices increased with median sales price of $586,500 and average sales price $864,211 (up more than 23% from 2022).
"Nationwide, over 67% of homeowners have either paid off their mortgage or have at least 50% home equity. Pagosa sellers placing homes on the market seem to be among those national homeowners. Many sellers are investors or second homeowners understanding that now is the time to cash out. Inventory is slim in homes under $450,00 with buyers migrating to the new norm of average sales price -not by choice, but necessity.
"Buyers looking for homes under $550,000 do not have the luxury to stall their purchase, as homes go under contract swiftly. The overall sale is only 2.6% less than the list price received, even with a hefty price-per-square-foot scenario in most price points. Sellers realize they must price well and have more patience and allow more time to sell, as average days on market are climbing towards 4 months.
"Land prices and sales have also been brisk in the last month due to higher home prices. Homes needing updates tend to stay on the market longer, as buyers paying higher mortgages simply do not have the extra income to renovate, nor the time to perform renovations. Winter is a good time for sellers to make those home renovations, as contractors are winding down from summer builds. Sellers who do not desire renovations are adjusting their prices, giving closing cost concessions, or point buy down incentives to achieve a home sale. Higher interest rates have driven first-time homebuyers off the sidelines and into the spectator seats.
"Archuleta County will continue to struggle with affordable housing issues for local workers, as housing prices are not adjusting to wages and living expenses. Sellers were spoiled in the last few post COVID years, which brought more full-time workers and homeowners as prices and interest rates suited their desires to relocate to a rural setting. Unfortunately, today's higher interest rates, home prices, and living expenses are overpowering those buyers in today's market. Historically, Pagosa Springs has been a resort, second home community. Perhaps that is the wheel turning and driving today's sales back to Pagosa's historical character. Reality shows less buyers and sellers are in the game these days. Sales show those choosing to participate in real estate are serious motivated players with the intent to succeed in buying and selling," said Pagosa Springs-area REALTOR® Wen Saunders.
PUEBLO
"We remain on the same downward trend across the Pueblo market since the first of the year. Sold listings were down 23% in July compared to a year prior and are down 27.6% year-to-date. New listings were down 25.3% compared to last July and are down 18.3% year-to-date.
"The median price fell 7% to $301,000 from last July and is down 1.6% year-to-date at $310,000. The percent-of-list-price received dipped 1.5% to 98.4% but still a good sign that prices are staying strong.
Looking to average days on market, we saw an increase to 3.1 months as it remains a seller's market, but the trend this year is that it is taking a little longer to sell homes and buyers are enjoying just a little more time to look and evaluate. Sellers are looking for buyers and agents are hosting a lot of open houses to help get those buyers off the sidelines. Interest rates are still causing buyer hesitation.
"Looking at new construction, we also saw things slow down in July with only 25 permits pulled and putting the year-to-date figure down 47%," said Pueblo-area REALTOR® David Anderson.
STEAMBOAT SPRINGS/ROUTT COUNTY
"Months' supply of single-family homes for July was 4.6 months compared to 4 months the previous July and a full month from June's 3.6-month supply. The average sales price for single-family homes dropped almost 12%; if you look at face value, you might get the wrong impression. In July of 2023 only one home closed over $4.4 million; in July 2022 there were three – with one of them closing at $7.5 million. The median sales price is up to $1.65 million. In the early days of August, there are four single-family homes under contract priced above $4.4 million. So why the increase in supply? Some say interest rates, some say some wrong pricing – both of those are having impacts. It is not unusual in our market to search for a home for a year or more before purchasing. Buyers are pretty dialed in on what they are looking for and wanting in a property. If they find what they are looking for, they are getting off the sidelines, contracting on it and in some cases still incurring a multiple offer situation. There can be windows of opportunity to purchase without a multiple offer situation and negotiate purchase price and/or inspections – but leave the door open long enough and someone else can walk in. I anticipate seeing the stats for months' supply in August less than what July delivered.
"Single-family inventory is still very limited and with certain price ranges it can be even more limiting. Many buyers look to find more affordability in the Hayden, Stagecoach and Oak Creek communities. If they want to live with a Steamboat address, some may find multi-family housing to be the option for their budget. Multi-family supply is at 1.7 months, down from 2.3 months for the same period last year and less than June's 2.1. With new listings down almost 44%, demand is strong with the number of sales the same as last year, sellers are still receiving over 100% of their list price and the median sales price similar to last year at $842,000.
"Inventory continues to be a culprit, but interest rates have played havoc with consumers who have experienced affordability affect them a percent at a time while they wait for inventory to come," said Steamboat Springs-area REALTOR® Marci Valicenti.
SUMMIT, PARK, AND LAKE COUNTIES
"July is another example of our market being unpredictable. We were on a trend of fewer sales than the previous year, but July saw a one-year change in sold listings that were up 33% from last year. While active listings fell 8.7%, July bucked the trends.
"In Summit County, the median sale price was up 13.8% in July compared to a year prior while the average sale price was up 37.7% ($2.2 million) for single-family homes. Townhouse/condo properties median sales price was up 2.6% while the average price was down 3.4% ($849,964). Year-to-date numbers are still down for single-family homes and up for townhouse/condos. Sellers received a little over 97% of their list price.
"Park County's year-to-date average single-family home price was $685,719, while Lake County's was $563,550. There are 623 residential active listings in the Summit MLS that range from a low-price, mobile home in Grand County for $75,000 to a high price single-family home in Breckenridge for $19.49 million (on the market for 1,069 days). Out of the 150 July sales, the lowest price was a condo in Dillon for $305,000 and the highest was a single-family home in Breckenridge for $6.9 million. These numbers exclude deed restricted, affordable housing," said Summit-area REALTOR® Dana Cottrell.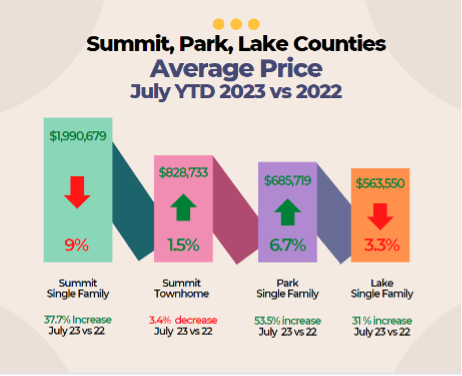 TELLURIDE
"Telluride's 2023 housing market is moving along as predicted. Dollar amount of sales in July was down 35% at $44.59 million and the number of sales, 24, was down 45%. What is even more telling is that two sales, one at $7.7 million for a home in the town of Telluride, and another home in the Mountain Village at $9 million, comprised about 37% of the total dollar amount of sales in July.
"Looking at the remainder of the year, I anticipate more of the same and maybe a little worse. The Federal Reserve is not quite done with interest rate increases, according to most economists," said Telluride-area REALTOR® George Harvey.
VAIL
"The Vail market continues its quest for a normal market trend. Each month, we see areas of stabilization which reach a less volatile level of performance. July delivered a slightly lower inventory than July 2022 however, pending sales were positive 12.5% versus the previous year which created the slight decline in active inventory. Pricing continues to hold well as unit sales for the month were off 17.2%, but sales dollars were down just 2.3%. Year-to-date transactions are off 36.2% and dollar sales are down 31.5%. The mix of sales by pricing niche remain relatively stable which is a factor of inventory by niche along with macro factors of money rates and inflation.
"We continue to maintain an active market with showings and, as previously mentioned, pending sales. Days on market have increased, headed toward a more normal historical range. The strength of the market pricing is supported by the average sale at 98.3% of list price. The market is finally up to five months of supply, closing in on the six months of inventory considered a stable market.
"Historically, as we enter the month of August, our local's activity slows driven by the start of school. This market niche is also the area most impacted by mortgage rates and inflationary pressures. The second and tertiary home market should continue at current levels through the next couple of months as is normal," said Vail-area REALTOR® Mike Budd.
SEVEN-COUNTY DENVER METRO AREA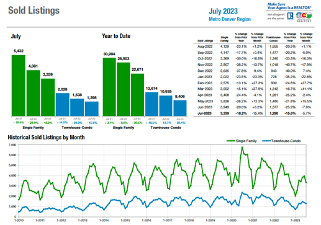 STATEWIDE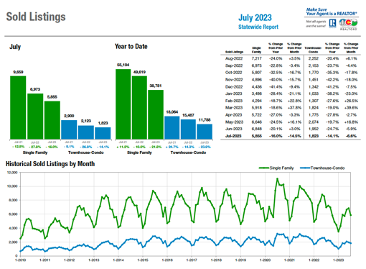 SEVEN-COUNTY DENVER METRO AREA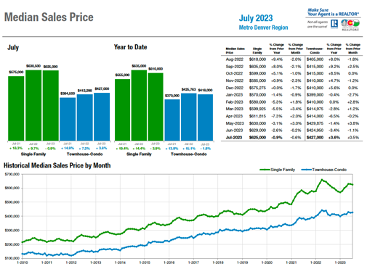 STATEWIDE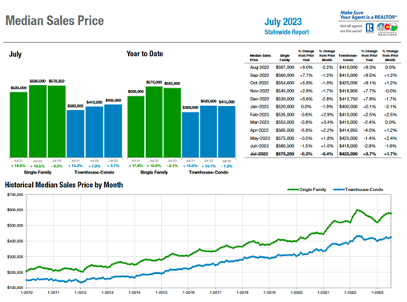 SEVEN-COUNTY DENVER METRO AREA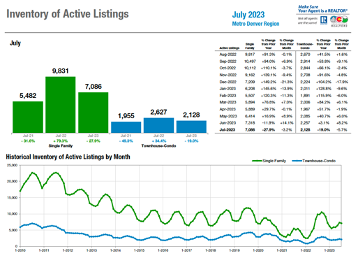 STATEWIDE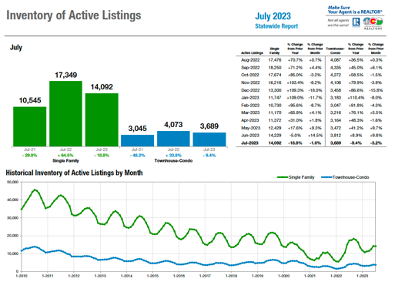 SEVEN COUNTY DENVER METRO AREA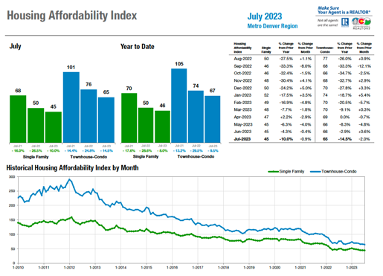 Housing Affordability Index
A measure of how affordable a region's housing is to its consumers. A higher number means greater affordability. The index is based on interest rates, median sales price and median income by county.
STATEWIDE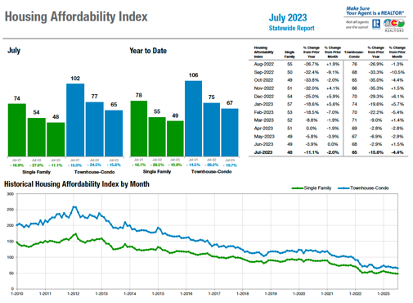 The Colorado Association of REALTORS® Monthly Market Statistical Reports are prepared by Showing Time, a leading showing software and market stats service provider to the residential real estate industry and are based upon data provided by Multiple Listing Services (MLS) in Colorado. The July 2023 reports represent all MLS-listed residential real estate transactions in the state. The metrics do not include "For Sale by Owner" transactions or all new construction. CAR's Housing Affordability Index, a measure of how affordable a region's housing is to its consumers, is based on interest rates, median sales prices and median income by county.
The complete reports cited in this press release, as well as county reports are available online at: https://www.coloradorealtors.com/market-trends/
###
CAR/SHOWING TIME RESEARCH METHODOLOGY
The Colorado Association of REALTORS® (CAR) Monthly Market Statistical Reports are prepared by Showing Time, a Minneapolis-based real estate technology company, and are based on data provided by Multiple Listing Services (MLS) in Colorado. These reports represent all MLS-listed residential real estate transactions in the state. The metrics do not include "For Sale by Owner" transactions or all new construction. Showing Time uses its extensive resources and experience to scrub and validate the data before producing these reports.
The benefits of using MLS data (rather than Assessor Data or other sources) are:
Accuracy and Timeliness – MLS data are managed and monitored carefully.
Richness – MLS data can be segmented
Comprehensiveness – No sampling is involved; all transactions are included.
Oversight and Governance – MLS providers are accountable for the integrity of their systems.
Trends and changes are reliable due to the large number of records used in each report.
Late entries and status changes are accounted for as the historic record is updated each quarter.
---
The Colorado Association of REALTORS® is the state's largest real estate trade association representing nearly 29,000 members statewide. The association supports private property rights, equal housing opportunities and is the "Voice of Real Estate" in Colorado. For more information, visit https://www.coloradorealtors.com.