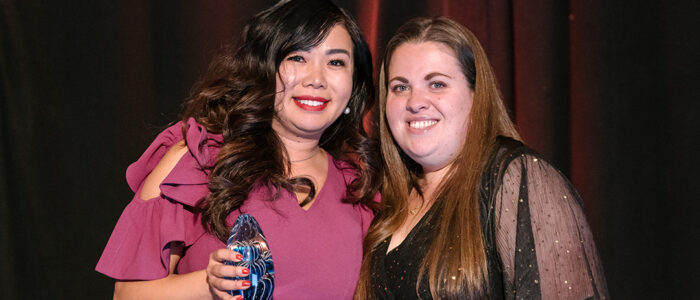 Colorado Association of REALTORS® Honors REALTOR® Lisa Nguyen, the Estes Park Board of REALTORS®, and Zillow, Inc. with Diversity & Inclusion Awards
Englewood, CO – The Colorado Association of REALTORS® (CAR) presented REALTOR® Lisa Nguyen, the Estes Park Board of REALTORS®, and Zillow, Inc., with awards dedicated to Diversity and Inclusion practices in the real estate industry. The awards were presented at CAR's annual inaugural dinner in Snowmass, Colorado.
"It is an honor and a privilege to recognize individuals and organizations leading the way in diversity and inclusion initiatives that are transforming and making an impact on our industry and communities," said Nicole White, CAR's 2023 Diversity & Inclusion Committee Chair, who presented the awards to the winners.
2023 Colorado Association of REALTORS® Diversity and Inclusion Award Recipients:
Individual Award: Lisa Nguyen has been a prominent leader in the REALTOR® community, driven by an unwavering passion for Diversity, Equity, and Inclusion (DEI). Her commitment to DEI and underserved communities goes beyond words—it's deeply ingrained in every aspect of her life and work. REALTORS® who know her admire her as a "Fair Housing Champion" for her tireless efforts to amplify the voices of the silenced. Lisa tirelessly advocates for equal treatment through her leadership roles with the Asian Real Estate Association (AREAA) and the Denver Metro Association of REALTORS® (DMAR). Her fellow REALTORS® call her a fair housing champion who works relentlessly to give a voice to those who have been silenced.
REALTOR® Organization Award: The Estes Valley Board of REALTORS® has made Diversity, Equity, and Inclusion a pillar within their association. A few of their accomplishments include supporting the LGBTQ+ community by participating in the Estes Valley Pride Month celebration, making the NAR Fairhaven Fair Housing simulation mandatory for new member orientation, and partnering with community organizations to further DEI efforts.
Brokerage Award: Zillow, Inc. strives to be a brokerage that not only speaks of DEI but embodies the idea. Zillow requires Fair Housing training for all employees, which includes how to respond to consumers or partners that make discriminatory comments or requests of Zillow employees. Zillow also works hard to protect consumers via their local legal protection tool, which allows consumers when searching for housing to determine which states and local jurisdictions offer protections for LGBTQ+ individuals, and prospective renters from income or housing voucher discrimination.
The Colorado Association of REALTORS® is the state's largest real estate trade association that represents more than 28,000 members statewide. The association supports private property rights, equal housing opportunities and is the "Voice of Real Estate" in Colorado. For more information, visit www.ColoradoREALTORS.com.