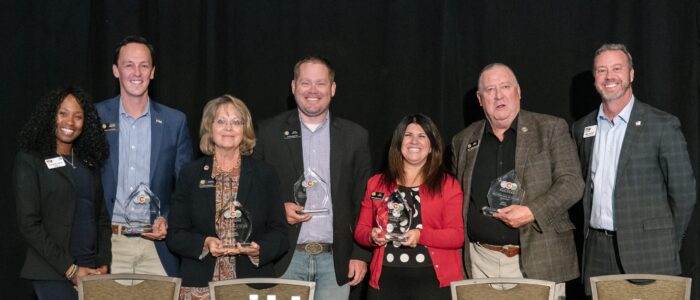 Colorado REALTORS® Announce Legislators of the Year for 2023
ENGLEWOOD, CO. – The Colorado Association of REALTORS® (CAR), the state's largest real estate trade association representing approximately 29,000 members statewide, has awarded three state senators and three state representatives with its 2023 Legislators of the Year distinction. Each of the elected officials were selected by CAR's Legislative Policy Committee and honored at the Association's annual Fall Forum held in October. 
The 2023 CAR Legislators of the Year are:
Senator Dylan Roberts (D- Clear Creek, Eagle, Garfield, Gilpin, Grand, Jackson, Moffat, Rio Blanco, Routt, Summit)
Senator Barbra Kirkmeyer (R-Larimer, Weld) Minority Whip
Senator Kyle Mullica (D-Adams)
Rep. Shannon Bird (D-Adams, Jefferson)
Rep. Rose Pugliese (R-El Paso) Assistant Minority Leader
Rep. Marc Synder (D-El Paso, Teller)
"The challenges surrounding homeownership have been magnified over the past several years to the point that housing is at the forefront of nearly every discussion from our state's most rural communities to the urban core and up and down the front range," said 2023 CAR President Natalie Davis. "This group of legislators were good partners with REALTORS® across the state and worked tirelessly to enhance public policy surrounding a wide range of issues addressing access and affordability."
Senator Dylan Roberts (D-Senate District 8)
Senator Roberts has championed housing issues for our mountain and resort communities across District 8. He understands the absolute and undeniable need for more housing units to meet workforce and family needs and help protect our economic future. He was also the Chair of the 2021 "Affordable Housing Task Force," which distributed $400 million for various programs and grants to create and maintain affordable housing. Senator Roberts sits on the Senate Local Government and Housing Committee, where he has been a steadfast advocate for policies leading to more housing opportunities for Coloradans.
Senator Barbra Kirkmeyer (R-Senate District 23)
Senator Kirkmeyer is a defender of private property rights and recognizes that heavy regulations on the housing industry drive up costs that are ultimately passed to the consumer. Senator Kirkmeyer supports reforms that allow the opportunity to create much-needed entry-level housing to create generational wealth. Senator Kirkmeyer is the Republican Caucus Minority Whip and serves on the Joint Budget Committee. She served as County Commissioner for Weld County for 19 years and served as acting director of the Colorado Department of Local Affairs.
Senator Kyle Mullica (D-Senate District 24)
Senator Mullica is the Chair of the Senate Finance Committee, responsible for general public finance proposals. Senator Mullica has a college degree in Finance and Real Estate. Senator Mullica recognizes the need for more housing throughout the state and advocates for pathways to homeownership.
Rep. Shannon Bird (D-House District 29)
Rep. Bird has a history of championing affordable homeownership. Rep. Bird is always searching for public policy that takes a balanced approach to housing regulation. Rep. Bird sponsored employer assistance for home purchase tax credit that gives employers an income tax credit when they make a monetary contribution to an employee to use when purchasing a home.
Representative Rose Pugliese (R-House District 14)
As a first-year legislator, Rep. Pugliese was appointed by her caucus to serve as the House Assistant Minority Leader. She previously served as county commissioner for Mesa County from 2013 to 2021, and during her time as Commissioner, she helped businesses survive during COVID-19.I She supports fewer government mandates on building codes that can drive up costs of housing and reasonable wildfire mitigation strategies.
Representative Marc Snyder (D-House District 18)
Rep. Snyder continues to be a regular champion of small business owners and an affordable housing problem-solver. Rep. Synder is the Chair of the House Finance Committee. He strongly advocates wildfire mitigation funding at the Colorado Capitol for local governments, individual property owners, and forest health. He is highly engaged in conversations around balancing the mitigation of housing affordability and regulatory policy in the energy and environmental space. He was a former mayor and a councilman for Manitou Springs. Snyder is an attorney specializing in trust and estate law for families with disabilities.
The honorees were recognized for their respective pro housing positions, as well as their unwavering support of the overall protection of private property rights for Colorado consumers.
"As REALTORS®, we take these policy issues to heart," said Legislative Policy Committee (LPC) Chair Ann Hayes. "We will continue to do our part to ensure all Coloradans can build wealth through homeownership and continue to enjoy all of the things that our beautiful state has to offer. We also understand and value the thoughtful approach and commitment to sound policy that these honorees have shown in their leadership roles. Each of these honorees will continue to play a vital role in finding bipartisan solutions for our state's residents and the overall economic vitality of our state."
About the Colorado Association of REALTORS®
The Colorado Association of REALTORS® is the state's largest real estate trade association that represents more than 28,000 members statewide. The association supports private property rights, equal housing opportunities, and is the "Voice of Real Estate" in Colorado. For more information, visit www.ColoradoREALTORS.com.