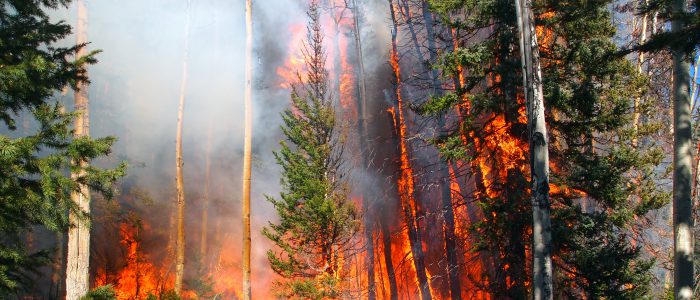 Wildfires in Colorado: The Overwhelming Effects and Costs and How REALTORS® Aim to Help
Across the country, wildfires have caused devastation and distress for years. In addition to the destruction they bring upon communities, fires can cost millions in restoration over the course of many years.
Headwaters Economics recently published a report that analyzed the cost of several fires across the country. The report looked at 8 major wildfires in four states through 2016, including the Hayman Fire in Colorado. Between those fires alone, a total of 539,000 acres were burned at a total cost of nearly $3 billion ($2,966,960,567).
With 11 fires burning in Colorado through this spring and summer, there is newfound urgency in looking for ways to prevent wildfires from destroying homes and communities.
All levels of the population are highly affected when a wildfire is on the move. We will take a closer look at how the communities are affected, and tools REALTORS® can use to help their clients mitigate against wildfires.
DISTRIBUTION OF WILDFIRE COSTS
Headwaters Economics researched costs associated with wildfires and how they are distributed by looking back at major fires that have occurred in the last 15 years. A summary of their general findings:
"Analysis of the literature suggests nearly half of all wildfire costs are paid at the local community level by government agencies, non-governmental organizations, businesses, and homeowners. Almost all wildfire costs accrued at the local level are the result of long-term damages such as landscape rehabilitation, lost business and tax revenues, degraded ecosystem services, depreciated property values, and impacts to tourism and recreation."
Many rehabilitation costs are paid by county, state, and federal agencies, as well as private landowners.
THE HAYMAN FIRE
One of Colorado's most destructive fires was the Hayman Fire back in 2002. Millions of dollars were lost on hundreds of structures and homes. Between burned buildings, land, and other residential and commercial losses, cost racked up quickly. The decrease in property tax revenue from areas impacted by wildfire was also detrimental to the economy.
Headwaters Economics states, "In addition to heavy losses in natural resources, water storage was the most expensive loss costing 80% of overall estimated loss." More than 20% of the total Hayman Fire costs were dedicated to land and water rehabilitation. Loss in property values in the 4 counties affected added up to more than $500,000. "Further, the emotional heartache and psychological stress experienced by business owners, residents, and recreationalists in the wake of a wildfire is incalculable," reported Headwaters Economics.
WHAT CAN REALTORS® DO ABOUT IT?
In 2015, CAR launched Project Wildfire, an education program designed to reduce and/or prevent the destruction of land, property, and lives by raising awareness and educating residents throughout our state. Colorado REALTORS® are working in partnership with other like-minded fire prevention organizations to bring education and awareness, as well as access to resources, directly to Colorado residents in their local communities.
With active wildfires burning across the state, Colorado REALTORS® are expanding their efforts to educate homeowners about the dangers of wildfires, especially to those living in Wildland-Urban Interface (WUI) areas, through a program designed to help connect homeowners willing to mitigate their properties and reduce wildfire risks with information and resources in their local communities.  The Colorado Project Wildfire website, coloradoprojectwildfire.com,
provides residents with direct links to wildfire related organizations and resources that exist in specific communities across the state.
THE IMPORTANCE OF MITIGATION AROUND HOMES
When Lester Karplus moved to the mountains near Nederland, Colorado, he knew it was a matter of "when, not if" his log home would be in the path of a wildfire. That day arrived in July 2016 when the Cold Springs Fire forced 1,900 residents to flee "100-foot" flames on a moment's notice.
While eight neighboring homes burned, Karplus' home and nine others in the path of the fire survived – all certified by Wildfire Partners, Boulder County's community wildfire mitigation program that provides homeowners with a comprehensive on-site property risk assessment that includes step-by-step mitigation needs, resources, a consumer help line, and follow-up inspections. The result – reduced wildfire risk and a coveted "Wildfire Partners Certified" yard sign.
Many insurance companies accept Wildfire Partners' assessments to meet their mitigation requirements. While that doesn't guarantee insurability, it does help improve the chances. Karplus says homeowners buying in wildfire-prone areas need to ask themselves: "Are we willing to be caretakers of the land?" If the answer is yes, they must understand the inevitable risk of living with wildfire and the long-term commitment needed to protect their property.
Mike Budd, Chair of Colorado Project Wildfire Task Force, is working to create a tool kit for every local association, establish local outreach partnerships across Colorado, and pursue grant funding opportunities to further fund Colorado Project Wildfire.
HOW TO REDUCE WILDFIRE IMPACTS 
As a REALTOR®, there is great opportunity to share information with buyers on how to protect their home in the best way possible. With the ruin left within the communities affected by fires, action steps are necessary.
WILDFIRE PREPARATION STEPS FOR HOMEOWNERS
Develop your fire evacuation plan and practice family fire drills. Ensure that all family members are aware of two or more escape routes from the neighborhood, meeting points and other emergency details.
Contact your county sheriff's office and ensure that your home telephone number and other important phone numbers appear in the county's emergency notifications database.
Prepare a "grab and go" disaster supply kit that will last at least three days, containing your family's and pets' necessary items, such as cash, water, clothing, food, first aid and prescription medicines.
Ensure that an outdoor water supply is available. If it is safe to do so, make a hose and nozzle available for responding firefighters. The hose should be long enough to reach all parts of the house.
Complete a checklist of fire safety needs inside your home (these should be available at your local fire department). Examples include having an evacuation plan and maintaining smoke alarms and fire extinguishers.
Source: Colorado State Forest Service
CREATING DEFENSIBLE SPACE ZONES
Defensible space is the area around a home or other structure that has been modified to reduce fire hazard. In this area, natural and manmade fuels are treated, cleared or reduced to slow the spread of wildfire. Creating defensible space also works in the reverse, and reduces the chance of a structure fire spreading to neighboring homes or the surrounding forest. Defensible space gives your home a fighting chance against an approaching wildfire. Creating an effective defensible space involves a series of management zones in which different treatment techniques are used.
CAR's Colorado Project Wildfire Task Force is incredibly proud of the work that has been done over the past few years to enhance the awareness and implementation of local wildfire programs across our state. In addition, we applaud the work of our local, state and federal organizations, as well as the countless emergency management and safety personnel working to prevent and/or limit the impact of wildfires. The Colorado Project Wildfire team is currently working with each of these organizations as we continue to improve the access to information for consumers and protect property and lives in the months and years ahead.
We look forward to bringing additional updates to our members and to sharing the stories of success as we expand our collaborative efforts.
For the full report from Headwaters Economics, click here.
For more information on Colorado wilfire mitigation: ColoradoProjectWildfire.com and wildfirepartners.org
If you have a wildfire program success story you would like to share with CAR members and our wildfire partners across the state, we'd love to feature your work. Please email Nicole at: nbody@coloradorealtors.com.