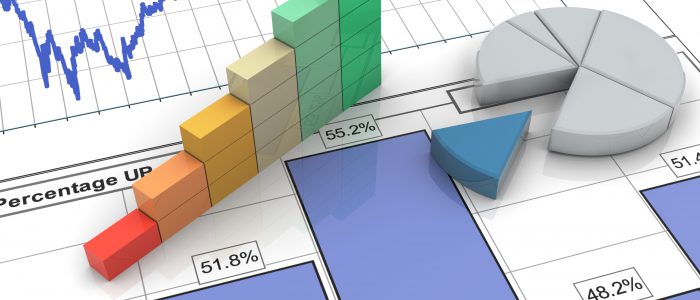 Housing affordability at its lowest ever for Colorado markets
ENGLEWOOD, CO. – Nov. 12, 2018 – With a continuation of the typical seasonal slowdown across most of Colorado's local housing markets in October, overall affordability appears to be taking center stage as median housing prices continue to increase fueled by reduced inventory, an uptick in interest rates, and the median income of potential homebuyers, according to the latest monthly market trends data from the Colorado Association of REALTORS® (CAR).
The Housing Affordability Index across Colorado is at its lowest point since the Association began tracking this measurement in January 2010. The index is a measure of how affordable a region's housing is to its consumers based on interest rates, median sales price, and median income by county. Overall, affordability is down 18 percent from a year ago for single-family homes and down 20 percent for condos/townhomes when looking at both the seven-county metro area and statewide markets.
Taking a closer look at some of the state's local market conditions, here are some perspectives from several of the Colorado Association of REALTORS® market trends spokespersons:
AURORA
"While many people were focused on the election numbers over the past month, we stayed focused on what Aurora's housing numbers showed us about the market. With month-over-month inventory down in Aurora, we do have a stronger inventory figure: 697 total listings from one year ago. Our median price is also down from September 2018 at $361,000, but again, we're up from this time last year.
"Aurora's condo/townhome market is up both month-over-month and year-over-year with 346 active listings for sale. Again, the median price of $235,000 is up from last year and down from last month with days on market holding steady at 19. Buyers are enjoying having a few more properties to choose from and the pricing is down slightly from a month ago.
"Centennial has seen a 24 percent year-over-year increase in inventory with 197 single-family homes listed for sale. The median sales price for a single-family property is up 4.2 percent from a year prior at $455,000 while the median price for a condo in Centennial is $290,000, up slightly from October 2017," said Aurora-area REALTOR® Sunny Banka.
BOULDER/BROOMFIELD
"Slow and steady wins the race in Boulder and Broomfield counties. The slow, gradual appreciation this year has created about 7 percent appreciation in both single-family homes and condos in Boulder County. Days on the market is still a strong indicator of a seller's market at under 60 days and inventory remains low. The mid-term election affected the market in the way it always has – lack of consumer confidence and fear of action until the election is over.  The fall has been slow but the statistics show a solid, steady market for this area.
"Broomfield County shares Boulder's seller's market and the single-family homes there have also appreciated this year, but at a lesser rate of about 4 percent. The condo market appears to have taken a tumble, losing 10 percent in the median price this year. However, at closer glance, the average days on market is 33 and the sales price to list price ration is over 100 percent. This blip in the statistics is due to more affordable complexes moving at lower prices. The market is still solid here, too," said Boulder-area REALTOR® Kelly Moye.
BRIGHTON/I-76 CORRIDOR
"With the holiday season quickly approaching, now may be the season to add home shopping to your list as home prices in Brighton and along the I-76 corridor continue to be lower than those in the Denver metro area. In Brighton, the median sales price of a single-family home in October fell 2 percent from September to $375,000. Buyers are getting a little larger selection as well with active inventory up 12 percent from September to October," said Brighton-area REALTOR® Jody Malone.
COLORADO SPRINGS/PIKES PEAK AREA
"Many local REALTORS® believed our market had shifted in June and now, October shows it may have. Listings increased more than 11 percent overall from last year and sold properties decreased. Days on market ticked up, but remain below 30 and are a far cry from any concern for our market. Our year-over-year median home prices continue to increase across the board and overall inventory does remain historically low.
"Buyers seem to be showing some fatigue but this may not be the time to sit back and wait to get back in the buying mood as inventory is improving. With the threat of interest rates seeing two more increases soon, affordability does not appear to be getting better anytime soon.
"On the flip side, sellers who did not sell mid-year may be regretting that decision as the heat of one of our hottest selling seasons has, like the weather, turned colder. Gone are the days of testing the upper price points however, when homes are priced right, they are selling.
"Nationally it's all good news. Unemployment is low, wage growth appears to be happening, and homebuilder confidence is great. Now that the elections are wrapped up and the holiday season is underway, I would expect it to remain slower through the end of the year," said Colorado Springs-Area REALTOR® Patrick Muldoon.
"In the Colorado Springs area housing market, the year-over-year single-family home sales activity in October 2018 saw a 22.4 percent increase in active listings, a 32.7 percent increase in months supply of inventory, a 9 percent increase in average price ascending to $345,770, a 8.7 percent increase in median price climbing to $305,000, 2.2 percent increase in new listings, and a 7.3 percent increase in the year-to-date volume, while there was a 3.3 percent drop in our year-to-date sales.
"Improvement in the supply of homes is highly appreciated by buyers as it eases the pressure for making instantaneous decisions.
"Year-over-year we've had a 22 percent increase in sale of single-family patio homes priced over $500,000, while there was a 13 percent drop in the sale of homes priced under $500,000. In October 2018, 77.5 percent of the single-family homes sold were priced under $400,000, 11.5 percent between $400,000 and $500,000, 8.8 percent between $500,000 and $800,000, and 2 percent were priced over $800,000.
It is significant to note that the percentage of the active listings sold has declined from nearly 90 percent in March 2018 to 55.6 percent in October 2018. Currently, there are a considerable number of price reductions. It is important to keep in mind that even in a low inventory market, not every property listed for sale will sell as buyers generally buy realistically priced properties offering competitive values.," said Colorado Springs-Area REALTOR® Jay Gupta.
DENVER
"Though well in to the holiday season's seasonal cooling, the Denver market remains a hotbed of activity. While prices are up 9.2 percent over this time last year, the number of new listings is also up 8.7 percent over last year as well. October saw 76 fewer single-family homes come to market than the previous month – well within the normal trajectory – while the median price continues a slightly more abnormal course.
"At $488,000, the median price for October was higher than September's $445,000. This rise follows a year of price expansion, higher only than April through June of this year while still lower than July. Though seemingly counterintuitive, this spike following September has occurred each of the last three years and is most likely due to seasonal inventory decreases over the warmer months causing the demand to raise ever so slightly and prices to continue their reaction," said Denver-area REALTOR® Matthew Leprino.
FORT COLLINS
"With the median single-family home price in the Fort Collins area stepping back from its August 2018 high of $425,000 to its current $395,950, we are seeing a comparative 'calming' in the housing sector from the frenetic pace of sales last spring. Our inventory continues to drop and total unit sales are down year-over-year, as well. Yet, we are still seeing gains, albeit smaller, in overall price appreciation.
"What does this mean for potential buyers in this market? A better opportunity to make an offer on a home without having to compete with a dozen other buyers to get it. The market remains on an upward pricing trajectory as there remains ample demand for the limited supply of available homes as evidenced by the market's 2.1 month supply.
"What appears to be making a difference is the apparent stabilization of lease rates in the rental home market. Investors are less keen on paying the prices required to obtain single-family homes with a lease rate that provides less desirable returns and may be in a holding pattern. This is a real opportunity for owner-occupied buyers in the median price ranges to enjoy a little breathing room in their search for a home to call their own.
"With mortgage interest rates likely to continue their creep upward, buying power is at a peak right now. Spring fever in the housing market will likely pick up again by March," said Fort Collins-area REALTOR® Chris Hardy.
PUEBLO/PUEBLO WEST
"Looking at the Pueblo housing market on a year-over-year basis, we experienced a 3 percent rise in new listings and pending sales up 5.4 percent. Despite those numbers, and a slight decrease in the days on market (69), overall sales were down just shy of 4 percent from October 2017 to October 2018. Our median housing price rose to $180,000 with the list price to sale price remaining very high at 98.6 percent. We're seeing more activity in homes priced above $300,000.
"Low inventory continues to impact the market and many agents are commenting on the reduced number of showings as a result. On the new construction side of the equation, we continue to have a strong number of new building permits in the region. An uptick in interest rates has had less effect on sales than the low inventory," said Pueblo-West REALTOR® David Anderson.
ROYAL GORGE AREA – FREMONT AND CUSTER COUNTIES
"Housing inventory in the Royal Gorge Area Real Estate Market continued to remain fairly stable with sales dropping slightly over the last month.  This is a normal condition for the winter months in the area.  Custer County continues to have sales nearly equal to that of new listings and for the fifth month in a row inventory has remained stable holding a 10-month supply of homes.  Custer Counties' median price range edged up a bit to $245,000.
Fremont Counties' inventory remains stable with about a 4.4 months' supply of units.  While new listings were the same in October as September the number of sold properties were down by about 36%.  Fremont Counties year-over-year median price range has remained stable at $200,000 for the last 3 months.  We expect a fairly calm market to last through the holidays." said Royal Gorge-Area REALTOR® David Madone.
TELLURIDE
"The Telluride market produced a big surprise in the month of October with sales dollars up 23 percent and the total number of sales up 6 percent, numbers driven primarily by four sales in our region that totaled $27.2 million and accounting for 31.6 percent of the total $86 million sales. This was the largest amount of sales in San Miguel County since July 2007.
When looking at annual sales so far this year, we're down 11 percent and the number of sales are down 23 percent. Like most Colorado resort markets, this year's slower market can be attributed to a lack of inventory. However, the price per square foot is up this year over last year for homes and condominiums in both the Town of Telluride and Town of Mountain Village. The local title companies tell us November and December 'under contract' sales look great," said Telluride REALTOR® George Harvey.
VAIL
"October in the Vail Market seemed to be stimulated by our spectacular late fall weather. Single- family/duplex sales for the month were up 12 percent in units versus September and brought our year-to-date performance to a 0.3 percent increase. The condo/townhome sector followed suit with a gain of 19.7 percent over September and the year-to-date numbers up 3.4 percent over 2017. The total market dollar sales are up 2 percent versus year-to-date 2017 and unit sales are down 2 percent versus a year ago. Overall months supply of inventory is at 6.7 for single-family/duplex and 5.5 months for condo/townhomes.
"Two of our mid-valley communities had spectacular October performances. One market accounted for 22 percent of their year-to-date unit volume along with a similar dollar volume performance while the other community accounted for 30 percent of their year-to-date volume in transactions and 38 percent of dollar volume. The October performance for these two communities represented more than 20 percent of the dollar volume for the entire valley.
"October certainly has generated enthusiasm in the real estate community and, coupled with four feet of snow, has everyone in a positive frame of mind. Couple these results with the announcement of an Early Opening for Vail on Nov. 14 and Beaver Creek on Nov. 17, let the ski season begin. Now we just need some more inventory to go along with the great early snow to bring visitors to the Valley," said Vail-area REALTOR® Mike Budd.
Housing Affordability Index – Denver Metro Region – includes Adams, Arapahoe, Boulder, Broomfield, Denver, Douglas and Jefferson counties

Housing Affordability Index – Statewide

Inventory of Active Listings – Denver Metro area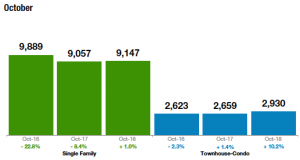 Inventory of Active Listings — Statewide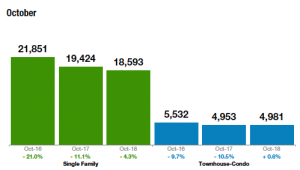 Median Sales Price Denver Metro area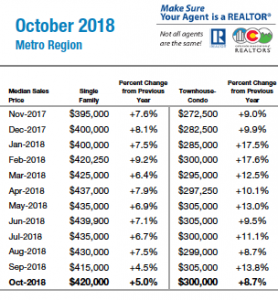 Median Sales Price – Statewide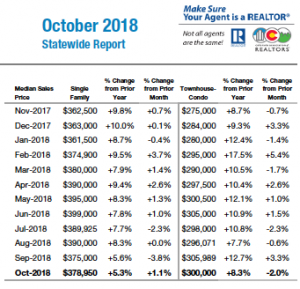 The Colorado Association of REALTORS® Monthly Market Statistical Reports are prepared by Showing Time, a leading showing software and market stats service provider to the residential real estate industry, and are based upon data provided by Multiple Listing Services (MLS) in Colorado.  The October 2018 reports represent all MLS-listed residential real estate transactions in the state.  The metrics do not include "For Sale by Owner" transactions or all new construction.
The complete reports cited in this press release, as well as county reports are available online at: https://coloradorealtors.com/market-trends/
###
CAR/SHOWING TIME RESEARCH METHODOLOGY
The Colorado Association of REALTORS® (CAR) Monthly Market Statistical Reports are prepared by Showing Time, a Minneapolis-based real estate technology company, and are based on data provided by Multiple Listing Services (MLS) in Colorado.  These reports represent all MLS-listed residential real estate transactions in the state.  The metrics do not include "For Sale by Owner" transactions or all new construction.  Showing Time uses its extensive resources and experience to scrub and validate the data before producing these reports.
The benefits of using MLS data (rather than Assessor Data or other sources) are:
Accuracy and Timeliness – MLS data are managed and monitored carefully.
Richness – MLS data can be segmented
Comprehensiveness – No sampling is involved; all transactions are included.
Oversight and Governance – MLS providers are accountable for the integrity of their systems.
Trends and changes are reliable due to the large number of records used in each report.
Late entries and status changes are accounted for as the historic record is updated each quarter.
The Colorado Association of REALTORS® is the state's largest real estate trade association representing more than 26,500 members statewide. The association supports private property rights, equal housing opportunities and is the "Voice of Real Estate" in Colorado.  For more information, visit https://coloradorealtors.com.