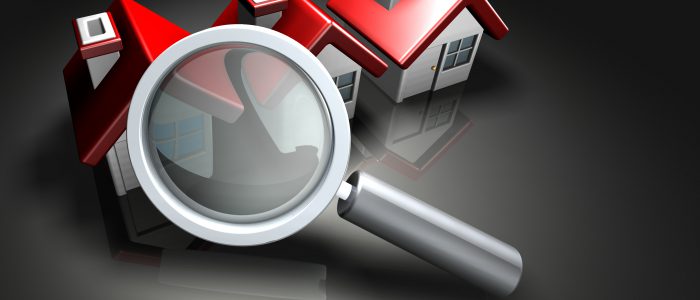 2018 a Year of Contrasts Across Colorado Markets
A strong spring in many markets across Colorado could contradict some reports of a slowing market in 2019
ENGLEWOOD, CO. – January 11, 2019 – 2018 was a year of tremendous contrasts across most Colorado markets, giving both sellers and buyers opportunities to take advantage of ever-changing market conditions, according to the latest monthly market trends data from the Colorado Association of REALTORS®.
While both market trends experts and economists have been looking at the potential of a shifting real estate market in 2019, the evidence of softening markets is not universal across Colorado and is dependent on the neighborhood, down to the zip code, further reinforcing the narrative that all real estate is local.
With the volatility in the stock market, mortgage interest rates have unexpectedly dropped to 12-month lows, resuscitating interest from buyers and allowing sellers to capitalize on a reignited estate market in early 2019.
Coupled with dropping rates, affordability actually eased a bit in the later months of 2018. Statewide, December's Affordability Index looked similar to that seen in early 2018. Despite this, December's median prices actually went up .04 percent over November's numbers (and still up 3.7 percent year over year), and average prices spiked 1.3 percent from prices seen in November (up 5.8 percent from this time last year). As expected for the winter months, days on market continued to trend upward to 57 days and 52 days for single-family homes and townhomes/condos, respectively.
Despite the increase in listings coming onto the market in the later half of 2018, providing buyers with more choices than they'd seen in early 2018 and late 2017, new listings in December took a dive with only 3,868 listings, down 36.5 percent from the 6,095 listings that hit the market in November; though buyers should note that such trending is not unusual during the holiday months and that we may see a resurgence of listings hit the market in 2019 as we edge our way towards the warmer months. Statewide, sold listings followed the same pattern as new listings with a 11.8 percent drop in sold listings over the previous month, down 15.8 percent year over year.
Taking a closer look at some of the state's local market conditions, here are some perspectives from several of the Colorado Association of REALTORS® market trends spokespersons:
AURORA
"2018 was a year for both buyers and sellers: the first 6 months proved beneficial for sellers while the last 6 months gave buyers a better opportunity to achieve their homeownership goals.
December 2018 showed the median sales price up almost 12 percent over December 2017, with the median price being $480,000 for single family residential homes in Centennial. Condos in Centennial saw a 5 percent increase over 2017 with median sales price of $286,000.
Aurora saw varying year over year increases based on the zip code of the property.  Homes in 80247 saw a 17.8 percent increase while most zip codes saw closer to 4 percent increase.  The overall median sales price in Aurora is $365,000 for single family homes. Condos in Aurora saw a 4.6 percent increase with the median sales price of $237,000.
Prices showed year over year increases in every zip code.  While prices are up, so is inventory, giving our buyers more choices. Inventory is up just over 4 percent from December 2017. This is promising news for home buyers looking to enter the market.
2019 is off to a very robust start.  The beautiful weather and pent up demand are showing signs of a strong spring market.  Showings seem to be up and REALTORS® have noticed a flurry of activity moving into the new year.  It is an exciting time for buyers; they have more choices, and still have the benefit of low interest rates.  As we move into spring, the question is whether the buyers will continue to enjoy the opportunities of a more balanced market. Now is a good time for both buyers and sellers.  2019 is looking to be a great year for real estate," said Aurora-area REALTOR® Sunny Banka.
BOULDER/BROOMFIELD
"Which came first?  The chicken or the egg?  Does talking about a changing market make the market change, or the other way around?  In Boulder County, prices finished up 8.2 percent to culminate a strong and steady year.  Houses and condos are selling for 99 percent of their list price and it's only taking 47 days on the market to sell.  Then, why all of the talk about a buyer's market and the tides turning?  The stats don't back it up.  If the year-end numbers and the first part of January is any indication, Boulder county's market is in for a strong spring.
Broomfield county, however, has slowed way down.  Year-end numbers for single family homes only showed a 4.9 percent increase and for the first time in a long time, the townhome/condo market saw a decline in appreciation of 6 percent.  Strangely, they are selling quickly, both under 30 days on the market.  This could be an indicator of a market shift.  When it softens, townhomes and condos tend to reduce prices so as not to compete with single family homes.  It will be interesting to see how this part of the front range may influence other cities around it in 2019," said Boulder-area REALTOR® Kelly Moye.
BRIGHTON/I-76 CORRIDOR
"By late year in December, Brighton and the surrounding areas of the I-76 corridor began to see what most of the state's market was also experiencing with the available inventory increasing along with average days on the market seeing an increase as well. As a result, we are starting to see a shift occurring, with sellers now having to reduce the original list price a time or two before getting it under contract. Even with the reductions in price, market reports are still showing appreciation across the board with the average single-family home in Brighton increasing 8.8 percent from 2017 to 2018 to an average price of $415,517. Adams County overall saw an increase of 8.1 percent and Weld County saw a 6.7 percent increase in value.
The Brighton area and I-76 corridor are seeing improvements every month, with more amenities and growth happening between stores, restaurants, and home builders starting new communities. The rolling average of home prices still remains below the state average, giving the area appeal for home buyers on the market who are looking for more affordability in contrast to other areas," said Brighton-area REALTOR® Jody Malone.
COLORADO SPRINGS
"In the Colorado Springs-area housing market, the year-over-year single-family home sales activity in December 2018 saw a 25 % increase in the active listings, a 45% increase in the months' supply, a 6% increase in the average and median prices ascending to $340,907 and $300,855 respectively. At the same time, there was a 12% drop in the monthly sales and 5% drop in the YTD sales. As the famous radio broadcaster Paul Harvey used to say, "And now the rest of the story." The month of December 2018 had the highest year-to-date sales volume, the highest monthly average and median prices, the second highest year-to-date sales, the second highest monthly sales volume, and the third highest number of monthly sales compared to any month of December ever.
The most puzzling question is why in this robust economy and record low unemployment have the sales have been declining? The plausible answer is that the combination of steady increases in home prices and interest rates has most drastically impacted the affordability for buying homes. During the past 5 years, average prices of homes in Colorado Springs soared 43% and the median price escalated 42%. Additionally, interest rates increased over 1%. Unfortunately, every 1% increase in the interest rate reduces the borrowing power by 10% for the same amount of monthly payments. The affordability challenge is causing many potential buyers to postpone buying a home now; however, this will likely result in increased future sales due to pent up demand," said Colorado Springs-area REALTOR®, Jay Gupta.
COLORADO SPRINGS/PIKES PEAK AREA
"December ended up being a month of mixed information and yet, ended up on an up note for the year. Overall sales dropped 13.7 percent. New single-family home listings were down 16 percent. December saw more properties on the market than the previous year at the same time. If I stopped there, you may assume pricing for 2018 might have softened, but, it did not! In fact, both average and median prices were up!
2018 proved to be a very difficult year on the industry, however. Both REALTORS® and lenders were trying to figure out what the market may do quarter to quarter and many of us found it to be frustrating to figure out how buyers' and sellers' moods were swinging at any given time. Mixed national economic news followed. It appeared that December would see the Fed raise interest rates, and it did, which actually pushed interest rates down for home buyers. We now enter 2019 with great rates and it's a great time for buyers to take advantage of the low rates. 312,000 jobs were added to the National economy and crushed experts' expectations. The Fed seems to be sitting still on future interest rate hikes.
Great job data was then offset by lower than expected manufacturing numbers, giving a mixed feeling to the economy. The stock market has been a roller coaster of run ups and drops, leaving everyone a little cautious. Real estate 2019 should be a blast to watch," said Colorado Springs-area REALTOR® Patrick Muldoon.
CRESTED BUTTE
"Crested Butte Mountain Resort was purchased by Vail Resorts in mid-September and since the announcement was made in June, there has been a lot of speculation about the effect this will have on real estate values. We did see a spike in sales of our lowest priced condotel, The Grand Lodge, but other than that, there hasn't been any increase in prices or activity that can be directly attributed to this major event.  I believe that we will see the effects of the Vail ownership in the next 2-3 years as they increase our winter visitor numbers and improve the skier experience.
The Crested Butte market has been experiencing slow and steady growth for the last 5 years but 2018 has ended with an 8 percent decline in dollar volume from 2017. Prices continue to climb, and inventory remains relatively low, especially for lower-priced properties. Vacant land sales in 2018 increased 27 percent from 2017 to 2018.  This correlates with our building boom and the difficulty in finding contractors.  Lower inventory of existing homes and the higher asking prices help explain the increase in land sales and I expect land sales to continue to grow as there are many worthwhile options still available.
Crested Butte remains a good value for resort property in Colorado and the opportunities in existing residences and vacant land are varied.  2019 should bring continued growth and excitement with Vail Resorts as part of our community," said Crested Butte-area REALTOR® Molly Eldridge
DENVER
"Denver continues its mellowing out period as 2019 starts and the final 2018 numbers come in to focus. For the third straight December, new listings on the market and homes that sold during the month reduced year over year, all while prices continued to climb. Just last month, the days on market went up, finishing out at 35 which is 17 percent more than the previous years' 30.
Another interesting item of note is the supply of homes; though less are coming on the market, also continues to rise – a most welcomed changed after years in the red. Consumers last month had 1.2 months' worth of inventory to peruse compared to just .8 in both December of 2016 and 2017," said Denver-area REALTOR® Matthew Leprino.
DURANGO
2018 Was a challenging year for the Durango market. The 416 Fire, which burned over 60,000 acres, occurred during the prime selling months. Incredibly, no structures were lost to the fire, but the aftermath was devastating to many residents who encountered multiple mudslides and flooding. The Durango Silverton Railroad is a major economic driver for the area was forced to shut down operations for the majority of the summer, causing a large number of tourists to change their travel plans and vacation elsewhere. The economic impact of the fire is still being felt in the local community. The winter tourist season is off to a great start with the resort reporting almost 100 percent occupancy over the Christmas holiday.
Single family home listings remain at historic lows throughout our region (-3.1 percent) for the year at 1,318 units. Sold units were also down 4.1 percent for the year. The median sales price rose to $428,500, a 7.9 percent increase over last year. The average sales price rose to $505,090, a 10.8 percent increase for the year. DOM increased slightly 154 days from 147 days.
The townhouse/condo market remained stable with little change in the number of units listed, sold, and average and median sales prices staying about the same.
Southwest Colorado is being blessed with great snow this season and hopefully will be able to avoid the disastrous fire season we encountered last summer. I have the feeling that we will see more inventory options available to buyers this year to relieve some of the pent-up demand from last year," said Durango-area REALTOR® Jarrod Nixon
ESTES PARK
It's a bit frosty in the high country but real estate sales are not frozen. Will 2019 be a mild year or
sizzling hot? The Estes Valley market shows indications of strength and growth. The median sales price for single family homes are on the rise with an increase in December at 2.6 percent and a healthy 8 percent increase year over year. Townhomes/condos are staying competitive with 3.1 percent increase in December and a 7.8 percent increase over last year.
The average sales price for townhomes/condos in 2018 was $310.553, a 6.8 percent increase year over year. The average sales price for a single-family home was up 7.7 percent to $452,770. With sales prices on the rise, affordability becomes another factor. The Housing Affordability Index shows a cooldown in the Estes Valley. An overall reduction of 11.6 percent for single family homes and an almost identical 11.5 percent for townhomes/condos.
Days on the market until sale shortened in December, showing signs that 2019 may heat up.
Demand in the Estes Valley is evidenced by the percent of list price received. Single family homes
fetched 98.2% of list price in December. This is down .2 percent from 2017, while townhomes/condos are receiving 99.3 percent, an increase of .1 percent year over year.
While the market in the Estes Valley is currently strong, we could start to see signs of a correction or
softening due to affordability and decreasing inventory in 2019," said Estes Park-area REALTOR® Abbey Pontius.
FORT COLLINS
"2018 was a year of tremendous contrasts!  The beginning of the year shot out of the gates like a thoroughbred racehorse with limited inventory, ravenous demand for housing, and low interest rates.  Homes came on and off the market as quickly as hamburgers on a hot grill! But with the grilling season – post 4th of July sales began to wane.  Interest rates crept upward, weakening buyer's purchase power and stamina to keep writing offer after offer in hopes of getting theirs accepted.  Sellers late to the party found their premium price listings languishing in the summer sun and the inevitable spate of price reductions began in earnest.  With prices high and rental rates stabilizing, investors stepped out of the market, assisting in the uptick in days on market.  Interest rates bumped up again in late summer and buyers continued stepping down in price and stepping back from resale homes. By December, total days on market (the amount of time it takes from when a home is first listed for sale and when it closes escrow) increased 3.8 percent to 82 days!  Coupled with unexpected volatility in the Stock Market, the holiday season gave everyone pause.
But with every cloud there is a silver lining!  While there were year over year decreases in both listing inventory and sales of homes in the just below median price range (which usually represents the highest number of total sales), there were substantial gains in the upper price points.  Median price has increased over all – but primarily due to an increase in sales of higher-end properties.  The number of properties sold in the $500-$600k range went up nearly 30 percent.  Properties sold in the million-dollar range increased by almost 42 percent! The jump in numbers of luxury home sales appears to have been what drove median prices higher for the year.
As we look to the New Year with the hope of sticking to at least a few of the many resolutions made, there are glimmers of renewed vigor in this housing market.  With the volatility in the stock market, mortgage interest rates have actually dropped to 12-month lows.  This will be enticing for buyers weary of looking at lower-priced and lower-quality homes to maximize their purchasing power once again.  Sellers will be wise to price aggressively if they desire quick closings.  Inventory remains at historic lows, demand is steady, but it will take more time to sell the homes that come on the market that are either priced too high or require fixing-up by the buyers.  It would appear that the upper-tier homes will continue the momentum generated in 2018 but gains and losses in the stock market may play a bigger role in those purchase decisions than in the median priced arena," said Fort Collins-area REALTOR® Chris Hardy.
GLENWOOD SPRINGS
"The market in Garfield County held its own in the month of December with new listings down by 1 home listing or 2.3 percent in single family and no change from December of last year in condo/townhomes. Sold listings were down in single family homes by 25 percent but up in the townhome/condo market by 3 listings (133 percent) over December of last year. Days on market for December was comparable in both markets over the same period last year. The median sale price in the townhouse/condo market was steady compared to December last year but down somewhat in single family – 14.4 percent compared to December 2017.
Looking at the year in review, the numbers held mostly steady across the different communities. The biggest change in inventory and single-family home sales was seen in Rifle with inventory and sold listings both up over 10 percent from 2017, while prices remained steady.
It comes as no surprise to locals that the single-family inventory in Carbondale was down as were the solds, bringing the median (12 percent) and average sale prices (9 percent) up in this market.
The median sale price of a single-family home in Glenwood was up 6%, and while inventory remained the same, sold listings increased by almost 10 percent. The townhome/condo market was steady with not much change except for a 10 percent increase in DOM.
In reflecting on the past year, we can see the market activity in Garfield County has been fairly balanced and steady despite the price increases in Carbondale and the upper valley," said Glenwood Springs-area REALTOR® Erin Bassett.
JEFFERSON COUNTY/GOLDEN
"I had the great pleasure of attending a recent event featuring economist Elliot Eisenberg, who projected that the nation will not see any recession until 2020. Meaning as of now, interest rates are good, unemployment is at a historical low (best since the 1960's), services have increased, and with all of these items in the black, the economy looks good! 70 percent of the GDP is in services (including REALTOR® services). Economists agree that 2018 was a great year, but with a projected two interest rate hikes on the horizon, the 2019 housing market will slow and start to lean more towards a balanced market, which is great for buyers.
For Jefferson County, new listings for single-family homes are down by 5.3 percent along with sold homes down by 16.3 percent from this time last year. The medium sales price did increase to $517,598, up from $489,413 from December of 2017. The days on market, inventory and months of supply are about the same from a year ago. For townhome/condos, new listings are also down by 8.2 percent and sold homes down by 3.3 percent from this time last year. The median sales also increased to $285,000 from $262,000 in December of 2017. The days on the market, inventory, and months of supply have all increased a bit from this time last year," said Jefferson County/Golden-area REALTOR® Barb Ecker.
PAGOSA SPRINGS
"In 2018, single family homes in Pagosa Springs presented an overall decline in new listings (-2.8 percent) and listings sold (-4.5 percent). Inventory appears to be the culprit, especially in the median ($335,000) and average sales ($402,557) (and below) priced properties. The year brought slight price percentage gains – 4 percent and just under 3 percent respectively. In addition, the rise in interest rates and low wages, together with limited inventory of homes priced under $300,000, has literally priced many first home buyers and retirees out of the market. Increased prices forced many homebuyers to higher price points than they originally anticipated or imagined. The luxury home/second home buyers, which make-up historically about 65 percent of sales, were the salvation to keep sales steady. 2017 set the pace for the 2018 condo inventory and prices to be at their hottest! Median sales price ($180,000) jumped almost 10 percent and average sales price ($220,364) jumped 18 percent, even with new listings down 14.6 percent!
Both condo and single-family inventory is at an all-time low coming into 2019! With the exception of homes priced $1M+ (40 total) providing up to a 6+ year inventory, all other price points are limited in inventory. Buyers experienced multiple offer scenarios, pre-qualification, and homes requiring updates at the buyer's expense.  Even those who are paying cash saw more instances of providing proof of funds to give sellers the incentive to accept offers. New home building was strong in 2018, however it did not provide the inventory needed. Most new homes prices jumped well into the mid $300s by mid-year 2018. Whether there will be any new home construction under $300,000 in 2019 shall depend on whether homebuilding material costs and increasing land costs stabilize.
Limited home and condo inventory also drove Pagosa Springs land sales in 2018. The most popular sizes (under ¾ acres) accounted for almost half of land sales. Land sales in 2018 were down to 387 units from 426 units in 2017 due to lack of land priced under $15,000, which was gobbled up by buyers including spec builders. Whether 2019 land units sold will continue to drop will depend on whether new home inventory in affordable price points materialize. Regardless, most land prices will continue to climb in 2019, and presents an opportunity for a new investor or retirees interested in building later. On just the other side of Wolf Creek Pass in the South Fork and Rio Grande County, the real estate market is similar but on a much smaller scale. Hold onto your hats, winter and snow is in abundance for skiers in Pagosa Springs. Springtime with new listings on the market and more out of state buyers discovering Pagosa Springs will be the preface of Pagosa Springs 2019 real estate market story," said Pagosa Springs-area REALTOR® Wendy Saunders.
PUEBLO/PUEBLO WEST
"2018 was a good year for the Pueblo market! New listings were up 2.8 percent, but pendings were down 2 percent.  Total sales compared to 2017 were only down by 75 homes. For the year average, price was up to $185,000, up 9 percent from last year. Percentage of list price received was 98.6 percent for the year, up from last year. Days on market are down from 83 to 70. New home permits are up to 439 from 361 in 2017.  Pueblo West is still where most of the new permits are being pulled with 61 percent or 269 of the total permits. Builders continue to create new communities in Pueblo and are still positive for 2019. REALTORS® are cautious for this year, suspecting that inventory will increase a little and prices will level off," said Pueblo-West REALTOR® David Anderson.
ROYAL GORGE AREA – FREMONT AND CUSTER COUNTIES
"New listings and sales in the Royal Gorge Area dropped for the month of December as is normal for this time of year.  The slight drop in inventory boosted the average and median price sales slightly.  Custer County new listings were down by 18.2 percent from December of 2017 and sold properties were down 36.4 percent. Year over year, Custer County saw an increase in listings of 9.6 percent over 2017 and a decrease in sales of 12.6% with a median home price increase of 1.9 percent.  Days on the market were down by 20.4 percent over 2017.  Median-priced mountain homes in Custer County are very affordable, coming in at $247,500.
Fremont County listings were up by 6.6 percent year-over-year with the number of sold properties down by 4.8 percent.  The median price range of a new home increased by 15 percent over 2017's price.  Days on the market decreased by 10 percent over the year, and Fremont County's median-priced home for 2018 is running at $196,000.  The good news in Fremont County is that the overall inventory is up by 6.6 percent for the year, which gives buyers a few more listings to choose from," said Royal Gorge-area REALTOR® David Madone.
VAIL
"December brought the year to an end with a continuation of the trend started in the second quarter.  Overall transactions for the year where down approximately 2.5 percent, with single family/duplex units less than one percent, while condo/townhomes down 3.6 percent.  The total dollar market for 2018 was plus 8.5 percent and driven by the high end of the market.  This high-end niche represented slightly less than 4 percent of transactions, but approximately 30 percent of dollar volume.  These macro numbers for the market were relatively stable, but significant swings took place in the eight market niches we monitor.  Half the niches were positive, albeit relatively modest increases, with the highest-priced niche the exception. The segments that declined were impacted by lack of inventory and to a certain degree, the increasing mortgage rates.
As we look to 2019, it is starting off with signs of increasing inventory in most price points which is a positive sign.  The potential clouds on the horizon are possible mortgage rate increases and volatility in the stock market, both of which can impact our second home resort business, as over half of the market is want rather than need based.  We will be monitoring these three areas closely and hope for a stable market rather than a negative prognostication. Happy 2019," said Vail-area REALTOR® Mike Budd.
Housing Affordability Index – Denver Metro Region – includes Adams, Arapahoe, Boulder, Broomfield, Denver, Douglas and Jefferson Counties

Housing Affordability Index – Statewide

Inventory of Active Listings – Denver Metro area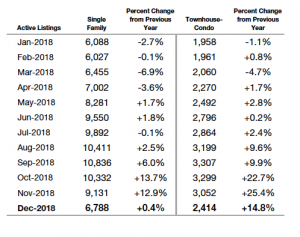 Inventory of Active Listings — Statewide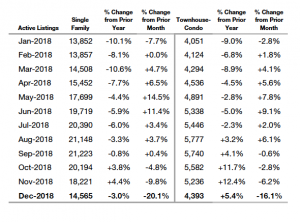 Median Sales Price Denver Metro area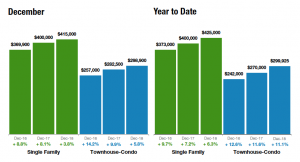 Median Sales Price – Statewide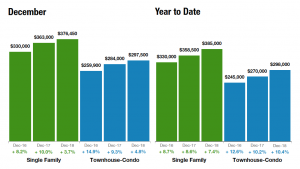 The Colorado Association of REALTORS® Monthly Market Statistical Reports are prepared by Showing Time, a leading showing software and market stats service provider to the residential real estate industry, and are based upon data provided by Multiple Listing Services (MLS) in Colorado.  The December 2018 reports represent all MLS-listed residential real estate transactions in the state.  The metrics do not include "For Sale by Owner" transactions or all new construction.
The complete reports cited in this press release, as well as county reports are available online at: https://coloradorealtors.com/market-trends/
###
CAR/SHOWING TIME RESEARCH METHODOLOGY
The Colorado Association of REALTORS® (CAR) Monthly Market Statistical Reports are prepared by Showing Time, a Minneapolis-based real estate technology company, and are based on data provided by Multiple Listing Services (MLS) in Colorado.  These reports represent all MLS-listed residential real estate transactions in the state.  The metrics do not include "For Sale by Owner" transactions or all new construction.  Showing Time uses its extensive resources and experience to scrub and validate the data before producing these reports.
The benefits of using MLS data (rather than Assessor Data or other sources) are:
Accuracy and Timeliness – MLS data are managed and monitored carefully.
Richness – MLS data can be segmented
Comprehensiveness – No sampling is involved; all transactions are included.
Oversight and Governance – MLS providers are accountable for the integrity of their systems.
Trends and changes are reliable due to the large number of records used in each report.
Late entries and status changes are accounted for as the historic record is updated each quarter.
The Colorado Association of REALTORS® is the state's largest real estate trade association representing more than 26,500 members statewide. The association supports private property rights, equal housing opportunities and is the "Voice of Real Estate" in Colorado.  For more information, visit https://coloradorealtors.com.