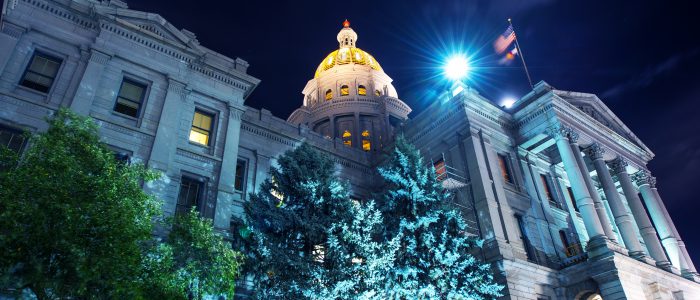 Mid-Year Legislative Session Review
By: Elizabeth Peetz, Vice President of Government Affairs, Colorado Association of REALTORS®
###
As we enter the last weeks of April, the Legislature is starting to round the corner heading into the final stretch as we race to May 3rd. The legislature just took up the state budget pursuant to our constitutional requirement to pass a balanced budget in Colorado. So while the legislature winds down, let's take stock of what's transpired over the last three months and take a peek at what we expect to see in the final few days.
###
The mood in the Capitol this session without a doubt is highly emotional as over 600 bills have been introduced and many of those major pieces of legislation are keeping the midnight oil burning for legislators, staff, and advocacy groups alike as committee hearings stretch into the nights and long Fridays. CAR has been there every step of the way working hard to enact legislation that improves the ability to transact real estate and ward off any public policy that threatens the real estate industry.
###
I am happy to report that CAR successfully drafted legislation that was signed by Governor Jared Polis on March 7th that fixes a longstanding problem concerning the authority to draft deeds conveying real property in a real estate transaction. Before this new law, only a licensed real estate broker was authorized to prepare a deed; however, the broker could delegate this limited authority to prepare the deed to a title company which then completed the deed under the direction and review of the broker.
###
CAR is proud to be a part the solution. Upon adoption of this change, the industry can expect reduced confusion, lessened disputes arising from the current contract form to transfer real property, and ensure the final product is a clear public record of the real estate transaction. CAR is working on educational materials to ensure members have the resources they need to adhere to the new law, so stay tuned for those materials.
###
This initial success has not deterred the hardworking members of the legislative policy committee (LPC) from deliberating on over 81 current bills with major pieces of legislation forthcoming in the next few days. And trust me, your LPC has been very busy this cycle with their legislative review.
###
First, CAR is watching the new technology legislation very closely. Several cryptocurrency bills are considered for a variety of business uses and we also continue to fight to protect consumers in remote notarizations against the sharing of their consumer data without meaningful consent, pursuant to the NAR data privacy policies. Second, CAR was engaged in the controversial oil and gas legislation, working to amend some problematic sections of the bill on behalf of the real estate industry in hopes of keeping Colorado competitive. This regulation could have a significant impact on a major economic driver of Colorado's future prosperity. 
###
Next, CAR is working to provide continued funding for homeowner mitigation of property to prevent wildfires and support property owner voices on commissions that prioritize important concepts such as defensible space in our wildland urban interface. Additionally, CAR is dedicated to modifying landlord tenant legislation to ensure that our property managers and single family homes that are used as rental properties can reasonably comply with any potential new regulations and our community association manager licensing program can be reinstated. 
###
Finally, two bills were recently introduced, giving Colorado voters an opportunity to vote on TABOR-debrucing and allocation of future revenue in November. An additional bill modifies the vendor fee to redirect sales and use tax revenue to develop a housing development grant fund that prioritizes funding for property owners whose property was damaged by a natural disaster or low-income affordable housing projects.
###
However, in the remaining final days of the General Assembly this year, there are several important pieces of legislation coming soon that will make the final sprint a heavy lift for CAR. We have some significant opportunities to engage in discussions to about bringing First-in-the-nation legislation forward, such as expanding the first time homebuyer savings account program. We also have some highly interesting issues to work on with stakeholders to either address concerns or help policymakers to understand the implications of their legislation. We expect to see affordable housing legislation including a) doubling the size of the affordable housing tax credit, b) the FHSA expansion, c) a developer bill, d) an affordable housing funding bill, and e) an executive order from the Governor focusing on defining our affordable housing strategy. We also impatiently anticipate the arrival of the following topics (some of which could be introduced as this article is drafted): arbitration, telecommunications broadband land use regulations, changes to the homestead exemption program, and local rent control.
###
As you can see, our volunteers on the legislative policy committee are truly dedicated to ensuring that we have a strong business climate and ensure your livelihood in the real estate industry as we preserve, enhance, and protect the American dream of homeownership for all Coloradans. The next time you see your local LPC representative, don't forget to thank them for all their hard work and dedication and wish them a successful final stretch. Remember, your engagement with our Government Affairs division gives us a strong voice at the Capitol and we simply couldn't do it without all of you.